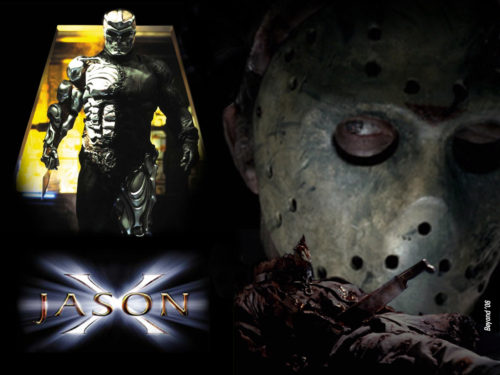 Jason hits up space in "Jason X" and our resident Twitter reviewer Tim Schilling is there to join him with a brand new Tweet by Tweet review.
Thoughts while watching:
0:01 Shortest title sequence for a #FridayThe13th movie EVER!
0:04 If you don't question how Jason survived the last movie, this makes total sense.
0:07 Just realized this is the first #FridayThe13th movie that was made when I was alive. Strange.
0:13 Hahahha hockey got outlawed.
0:15 I love that the entire earth isn't even habitable anymore in this.
0:24 DVD isn't even going to be a word in the year 2455.
0:27 EW stap it.
0:30 Honestly one of the best and nastiest deaths in this series right there.
0:38 The game sequence was so cool and actually pretty smart.
0:52 Jason just killed hundreds of people in seconds and no one ever talks about it.
1:05 Women can't drive space ships.
1:10 No, he is not high. The first for this series.
1:13 New Jason is badass.
1:23 The second dream sequence is really cool too. It's one of my earlier memories of this series.
1:27 There should have been a sequel. Because we all know Jason didn't die.
Overall: #JasonX is too ridiculous to not like. Even so, I think it's actually not that bad of a movie and really does work as a #FridayThe13th entry
To follow Tim on twitter: https://twitter.com/schillingt
To follow Slasher Studios on twitter: https://twitter.com/slasherstudios