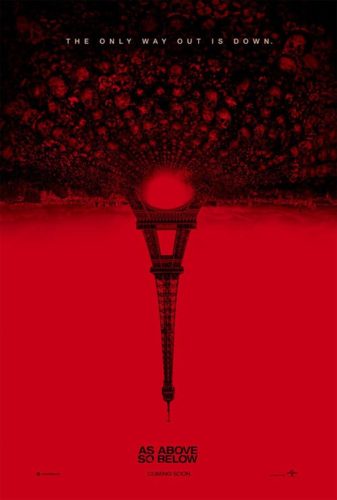 On Wednesday I saw As Above, So Below (2014) for the first time. This was my latest DVD screener I received from my job to review. I had missed this movie in theaters so this was the perfect opportunity to finally watch it. When it first came out I wasn't very convinced by it or care to see this on the big screen to be honest. I hadn't heard that many good things about it so I didn't bother. However the last couple months I've heard some great and positive things from horror fans and friends. I finally saw it myself and I thought it was at parts truly terrifying and disturbing. Good performances by the cast, especially by Perdita Weeks who blew me away. As Above, So Below comes a very long way with its original concept.
While the story wasn't that interesting to follow at points and some of the characters aren't well developed I still thought this was a very unpredictable horror movie. I wasn't a fan of the overkill of 'shaky cam' moments but the camerawork was really good and gave me as a viewer a claustrophobic feel. I liked the ending, it leaves the viewers with just enough pieces to solve the tiniest mysteries that weren't obvious at first. Definitely a lot of clues and hints are given through out the movie worth noticing. The graphic deaths were amazing and the catacombs sequences gave me the creeps. I highly recommend this shocking and surprising horror movie, I have seen far better genre outings but this is one you won't forget about soon.
Wanna read some more reviews of mine? Visit ‪#‎FerdisMovieReviews‬ and you can find plenty of more!
–Ferdi Akkulak