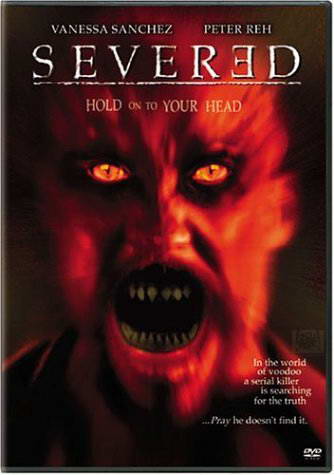 Four brand new tweet by tweet reviews in one week? If anyone can to it, it's our guest twitter reviewer Tim Schilling! As you may know, we are just started a new feature here at Slasher Studios: tweet-by-tweet reviews. The idea behind the concept: We take a movie and give you a running commentary through twitter. After the film is done, we will post the review over here at Slasher Studios. Tonight we take a look at the ultra low budget "Severed." Is it a diamond in the rough or is there a reason why it is forgotten. Let's dig in!
Synopsis:
A ritualistic serial killer is beheading victims all over a city, and those surrounding the case are pulled into his world as they try and stop him.
Thoughts before the film:
2/3 good movies outta this $5 walmart 8 pack so far, make it 3/4 good ones!
Thoughts while watching:
0:01 I think this movie was filmed on a cell phone camera…
0:04 In a parking lot alone with nothing around, you don't see or hear someone walking up to you?
0:07 That's the second time they had the sound effect of a car turning on…The car was already on.
0:09 "he pulled a dumbo." What does that mean?
0:13 Somehow there were like two opening scenes. Is that possible? Opening credits just now.
0:14 The music isn't really horror film music, more mystery.
0:22 Completely changing plots 20 minutes in is cool I guess.
0:24 I can't seeeeee, lighting is a good thing when you're not trying to be in the dark
0:43 "Then it started every couple of days. If you do the math, that's one body a day." Even I'm better at math than that.
0:48 This movie has the worst lighting I have ever seen.
0:55 I'm not gonna make it through the whole movie…
1:01 Oh god that guy's face was actually terrifying.
1:03 They literally have been running down the road and doing nothing else for the last two minutes.
1:20 One of the few things this movie has got going is that the killer is actually really creepy looking.
1:21 And this movie over uses the color red unlike the other movies in this 8 pack who rape the color blue…
Overall:
#Severed was more of a crime film than anything. Beyond terrible lighting and editing, but I did like the voodoo idea with the killer.
To follow Tim on twitter: https://twitter.com/schillingt
To follow Slasher Studios on twitter: https://twitter.com/slasherstudios