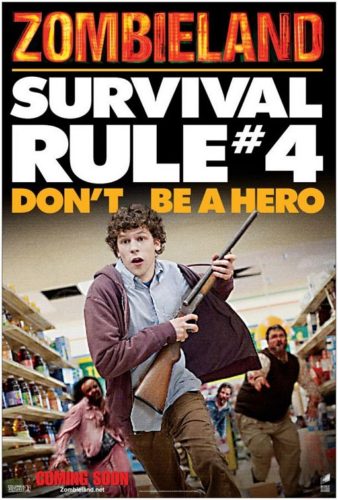 Zombieland may not be your typical zombie flick, seeing as it is filled with comedy, but that paired with a few other great attributes is what makes this film stand out. Great effects, a fun and exciting cast and some very cool looking (and fast) zombies creates for a fun and wild ride.
The special fx that can be seen in Zombieland, really took me by surprise. The blood splatter and the make-up done on the zombie actors was well done. It is easy to see that they had an experienced team of artists on hand to apply the rotting skin, scabs and bruises. A round of applause must go out to them. But that was not where the effects ended. Throughout the film, 3D text is displayed over the picture and interacts with its surroundings. I found this to be a very cool visual and really enjoyed the way the words became part of the movie.
The zombies were amazing to watch because they were fast and exciting. They helped give off a felling of suspense and wonder. I always have been a fan of a threatening zombie and these gross guys and girls help give Zombieland a boost a well needed thrill that some fellow undead films may lack. Plus, I felt Woody Harrelson was able to put his own flare into his character and create a very unique Twinkie loving zombie hunter. And nobody can forget the Bill Murray scene. If you have not seen this yet, then I wont spoil it for you. So run and check it out!