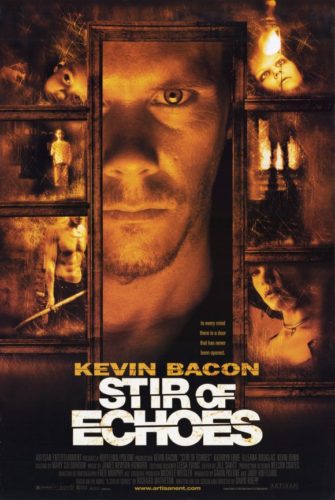 This movie came out a month after The Sixth Sense, and was largely overshadowed by it. I adore this movie. I've seen it a hundred times. I feel that the family is so likable, as a unit and individually. I'm a big Kevin Bacon fan. Always have been. And I love Kathryn Erbe as Tom's wife, Maggie. It would have been so easy, as Kevin Sommerfield pointed out to me long ago while discussing the movie, for the creators of this movie (and possibly the author of the book I haven't read) to portray her as the denier and the naysayer, but instead she's supportive and sympathetic, and takes on the burden along with Tom and his son, an adorable little boy who is played by Zachary David Cope (one of two roles, one uncredited- what happened to this kid? He was great!).
The very practical and hard working Tom, who doesn't believe in any spiritual nonsense, challenges Maggie's sister Lisa (Illeana Douglas) to hypnotize him at a party. He then realizes that a missing girl in the neighborhood is making contact with him and his son. I think Kevin Bacon does a great job playing this role. Tom is shocked, scared, and exhausted. Very burdened, both morally and spiritually, he begins to seek the truth of this unsolved disappearance of the young lady, much to the dismay of certain people in the neighborhood who are hiding a terrible secret.
I love this movie. I love the acting, the atmosphere of their unique and fun Chicago neighborhood, the scares, the secret unfolded, and the ultimate justice. I can find a way to justify every moment of this movie, I swear to God. There are also some genuinely funny moments and a great sex scene between Tom and Maggie. I suppose I don't have to share that opinion, but I'm gonna anyway. And also there are hot shirtless Kevin Bacon scenes apart from that. Guilty pleasure of mine that's unrelated to the story….and he does a great Chicago accent, too.
–Catherine Kincannon