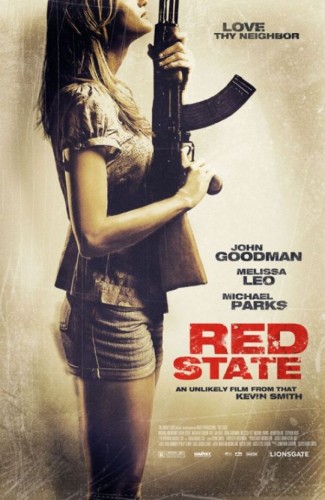 On the way to school, Travis (Michael Angarano) notices members of the Five Points Church, led by Abin Cooper (Michael Parks) protesting the funeral of a local gay teenager who was found murdered. During Travis' first class, his teacher talks about how Cooper and his church had their town ridiculed for his actions and beliefs. Later, Jared (Kyle Gallner), a friend of Travis, reveals he received an invitation from a woman he met on a sex site for group sex with himself, Travis and Billy Ray (Nicholas Braun). They borrow Travis' parent's car and travel out into the country to meet with the woman.
Along the way, they accidentally sideswipe the vehicle of Sheriff Wynan (Stephen Root), while he was engaged in a homosexual affair in his car. Afraid, the boys drive off. Sheriff Wynan returns to the station and tells his deputy Pete (Matt L. Jones) to go and look for the vehicle. Meanwhile, the boys arrive at the trailer of the woman who sent out the invitation, Sarah Cooper (Melissa Leo). She encourages them to drink, and after being drugged by the beer, they pass out while undressing. Jared wakes up while being moved in a covered cage. He realizes he is in the sanctuary at Five Points after he identifies Cooper. Cooper begins a long, hate-filled sermon before identifying another captive, a homosexual they lured in through an internet chat room. They bind him to a cross using saran wrap, violently execute him with a revolver and drop him into a small crawl space where Travis and Billy Ray are bound together.
Cooper then begins binding Jared to the cross, but stops when he notices Pete driving up to the church. Travis and Billy Ray use a protruding bone from the corpse to cut themselves free, which is heard by Caleb (Ralph Garman). He lifts up the trap door just in time to see Billy Ray escape and begins after him. Billy Ray is not able to help Travis out of his tight saran wrap cuffs and leaves him for dead. Caleb chases Billy Ray while passing Travis into a room stocked with weapons, where the two end up shooting and killing each other. Pete hears the gunshots and calls Wynan for back-up, but is shot and killed by Mordechai (James Parks). Cooper then blackmails Wynan, telling him to stay away or he will reveal Wynan's homosexuality to his wife. In despair, Wynan calls ATF Agent Joseph Keenan (John Goodman), who begins setting up outside of the church.
While the family mourn Caleb, Travis (who had broken free and feigned death alongside Billy Ray's corpse) arms himself and makes a run for it, eventually making it outside where he is shot and killed by Wynan, who mistook him for a member of the congregation. Keenan tries to reason with the family but a shoot-out erupts instead after one Keenan's men is shot in the head. In the midst of the shooting, Agent Keenan receives a call from ATF higher-ups ordering him to start a full raid of the complex to ensure that no witnesses remain of the operation, and no one can tell of their mess up. Another tactical agent named "Harry" (Kevin Alejandro) struggles with this decision and argues with Keenan in private against doing this. Keenan coldly dismisses Harry's protests for personal reasons — rationalizing his decision based on personal gain and the reputation of the ATF — and Harry storms off in disgust. During the shoot-out, Cheyenne (Kerry Bishé) unbinds Jared, begging him to help her hide the children.
Jared coldly refuses due to the fact that the church is evil and had killed both his best friends, and the arguement turns into a fight. Sarah notices them and attacks Jared. Cheyenne tries to break up the fight and accidentally shoots Sarah in the process, killing her. Jared, realizing no matter what he does he will end up dead, helps Cheyenne hide the children. They run outside to plead with Keenan to spare the children but are brutally shot and murdered by Tactical Agent Harry, who has come around to accepting Keenan's rationales, though Keenan is now visibly disturbed the reality of this outcome and Harry's actions. The shoot-out is then suddenly interrupted when a mysterious loud trumpet ominously blast echos across the sky.
If "Red State" proves one thing it is that Kevin Smith is a much better writer than he is a director. In the comedy genre, direction only matters so much. If the jokes aren't there, what can a director do? He can't make "nothing" funny. In the horror genre, the role of the director is key. He is responsible for the scares, the pacing, the thrills, and the overall tone of the movie. "Red State" works as written but the film as directed is a bit of a mess. Far too many characters, a limp, lackluster editing, and too many "Kevin Smith type" characters. I kept thinking how a movie like this would be directed in the hands of a more accomplished filmmaker who could get a hold of the subject matter such as Rob Zombie. I appreciate the effort here and the performances are all uniformally good but it all adds up to very little.
Order "Red State" at Amazon: Red State [Blu-ray]