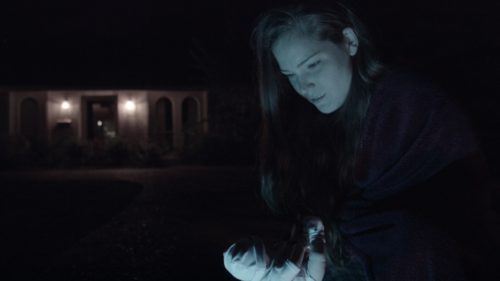 Abortion. It's a hot-button issue, but hopefully one that wouldn't determine whose side you take while watching Chris Moore's familiar-but-startlingly-fresh indie chiller "Blessed are the Children."
The madness begins when Traci (Kaley Ball), in a mess of a relationship and dealing with frequent harassment from her ex-fiancé, finds herself pregnant. Upon dealing with the shaming of her somewhat shrewish, but also somewhat sympathetic mother, Stephanie (Cheryl Abernathy), Traci starts to consider an abortion. Whether or not she has it, her being spotted at the clinic by some silent-but-spooky protesters sets off a chain reaction of strange occurrences for everyone around her, including her roommates: the quirky, virginal Erin (Arian Thigpen) and the zany, no-filter Mandy (Keni Bounds).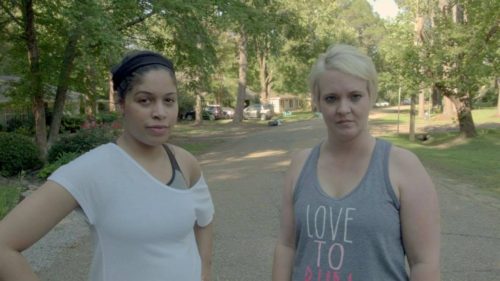 To say anymore about the story would be an insult to the clever plotting and intriguing set-up laid out by Moore, whose disturbing low-fi no-budgeter "Perversion" was equal parts enticing and disturbing. That uncomfortable feeling follows him here. His flair for awkward comedy, seen in his web series "The American Dream" is also very much present as Traci, Erin, and Mandy go about their dysfunctional lives, completely unaware of the bizarre consequences of Traci's actions. Ball is intriguing as Traci. She has a bit of a mouth on her, and her life choices are baffling and slap-worthy, but Ball brings a good balance of sympathy and snark to the character. As the lovable, mildly-raunchy Mandy, Bounds is a hilarious ray of sunshine. Nearly every word she utters is a knee-slapper, and the girl plays it well. And Thigpen is adorably awkward as the outgoing and protective Erin. She's fun and quirky, yet has an intriguing pathos about her. All three girls have their own very strong qualities that dominate the film.
While his work has always been intriguing and well-done (yet incredibly discomforting), Moore's directorial skills have only gotten better here. He uses the film's 2.35:1 frame fairly nicely (one of many aesthetic elements of films such as Halloween and Dressed to Kill that populate the film), and there were a few moments that I found legitimately terrifying. Although the elements the film is comprised of are all familiar and even clichéd at times, the assembly itself is very fresh and spooky. See this one, guys. For all its indie-film constraints, "Blessed are the Children" manages to create a large, mysterious and chilling experience that Platinum Dunes and The Asylum couldn't even dream of.
–Joshua Dean