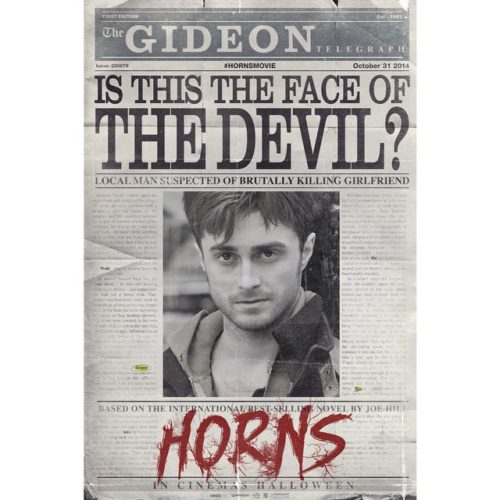 So on Saturday I've watched Horns (2014) for the first time. This was my latest Blu-ray Disc screener I received from my job to review. This movie was released in theaters where I live this past November. I was interested in seeing it mainly because I like the cast and the poster looked like fun, but I ended up missing it on the big screen. Well I have watched Horns and I gotta say it genuinely took me by surprise. Its especially good that I went in watching this as fresh as possible, without even having watched a trailer or having read the synopsis.
Horns is a very unique and original fantasy thriller. The acting performances are brilliant, with an exceptional lead performance by Daniel Radcliffe as he pulls off his best performance to date. I also have to give props to the young and talented actors Juno Temple and Max Minghella, who each embodied their respective character flawlessly. This movie is entertaining, funny and scary all at the same time. Horns is quite like nothing I have ever seen before. The screenplay and dialogue feel refreshing and inventive. Visually the movie appeals a lot and the directing by Alexandre Aja (Mirrors, Piranha 3D) is really solid. The make-up effects throughout the movie also look amazing. I did feel that some scenes went on for too long.
Horns is also too much of a genre cocktail and can't quite decide what it wants to be: horror, comedy, fantasy, drama or thriller? I also thought the movie didn't exactly kicked off on a high note, but it definitely got better with each scene. The soundtrack is very fun to listen to. Horns has some great twists up its sleeve and the final act is an absolute blast. The movie offers plenty of style and substance and is a movie that is able to stand on its own. I highly recommend you to watch this fun flick for the cast and original concept alone. You can't go wrong watching Horns, especially if you have a love for good horror and dark humor.
Wanna read some more reviews of mine? Visit Ferdi's Movie World and you can find plenty of more!
–Ferdi Akkulak