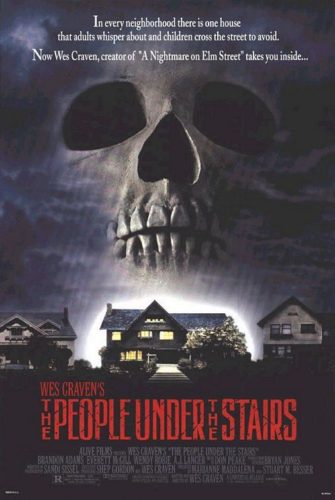 Some movies are a little bit out there. Some movies are a little on the strange side. Some movies can be a put off putting to others. And some movies are "The People Under the Stairs." I can honestly say that I have never seen another movie like it. It is weird, over-the-top, and quite frequently crazy. You have a husband and wife (or mother and son or brother and sister, the movie really doesn't make it very clear) that kidnap children to raise as their perfect offspring. However, when the child in question "hears, speaks, or sees evil" they are banished to the basement with the other neglected children. Sound fucked up?
Well, that's only the start of it. The movie begins with a thirteen year old boy nicknamed Fool. Fools lives in the ghetto and has just found out his family is going to get evicted from their run down apartment. Fool is persuaded by family friend, Leroy, to sneak into the landlords' home (the husband/wife, etc) to steal a prized coin collection rumored to be in their home. Desperate to help save his Mother's life and the family from being thrown into the streets, Fool goes with Leroy and Leroy's friend, Spenser, to the house.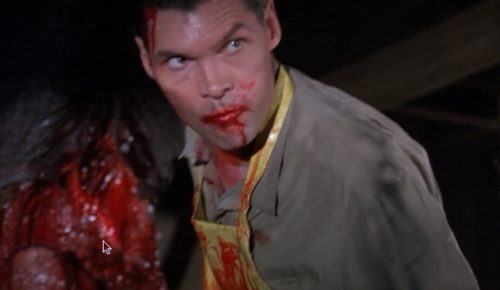 Once they force their way into the house, they realize they got a lot more than they were looking for. After Spenser and Leroy are tragically killed, Fool tries to escape. Running for his life, he bumps into the landlords' daughter, Alice, a young abused girl full of nothing but scars and fear. Fool feels sympathy towards Alice and persuades her to escape with him.
The movie works as a social parable about the rich and the poor but works even better as a balls-to-the-wall action/horror comedy that is just about as weird and crazy as you would imagine. I can't recommend this movie to everyone but for those looking for a little leather gimp action, a crazy incest plot, and lots of hillbilly kids. Well, you've come to the right place.
Buy it here: The People Under the Stairs