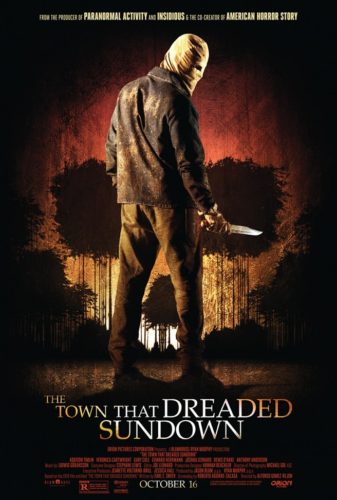 Many years after the killings in small town by a killer known as "The Phantom" resulted in the making of the 1976 film The Town That Dreaded Sundown, Texarkana is once again plagued by murders. Every Halloween, the town has a drive in screening of the original film depicting their own town. On this particular night, Jami (Addison Timlin) and her boyfriend Corey (Spencer Treat Clark) decide to bail on the film and go elsewhere. When they are attacked by an assailant dressed as The Phantom, Jami starts to suspect that history is about to repeat itself, and the new Phantom has certain plans for Jami and her small town.
It is difficult to say whether this version of The Town That Dreaded Sundown is a reboot or a sequel. But whatever it is, it works. The original film had its creepy moments, but this film has a lot more going for it. For starters, this definitely has more of a slasher film feel to it than the original. We are given a very creepy killer, plenty of great and spooky night time scenes with him, plenty of chase scenes, and excellent and bloody kills. Not to mention it is VERY well-filmed with a great atmosphere and nice splicing between this and the original film. It also keeps you guessing as to what exactly is going on. Our leading lady played by Addison Timlin, while definitely isn't legendary as far as a Final Girl, but she's likable enough for us to root for her. And she has very sweet scenes with her grandmother, played by Veronica Cartwright. The acting isn't bad, but it's not anything great either. Timlin does well with the lead role, and easily does give the best and only note-worthy performance of the film. The concept itself is very interesting in how it is trying to bring new life the original film, and bring in a new generation. However, the concept does have a few problems. It bares a very strong resemblance to Scream 4 in trying to re-create the events of a real story/film in the film's world. In fact, there's a few things that can be compared to with Scream in regards to this film. The twist is another one of its weak spots. When it's revealed, it's not so much shocking as it is that you don't see much point to it.
Despite the film's borrowing of ideas and strong resemblances to Scream/Scream 4 and the awkward twist, this reboot/sequel is ultimately a fun slasher film. Let's face it, there haven't been many good ones. So if you look for particular aspects in a slasher film like a creepy killer, chase scenes, a decent body count, and bloody kills, with a likable lead, you may just enjoy this. It doesn't take itself too seriously, which makes it all the more fun.
–Cody Landman