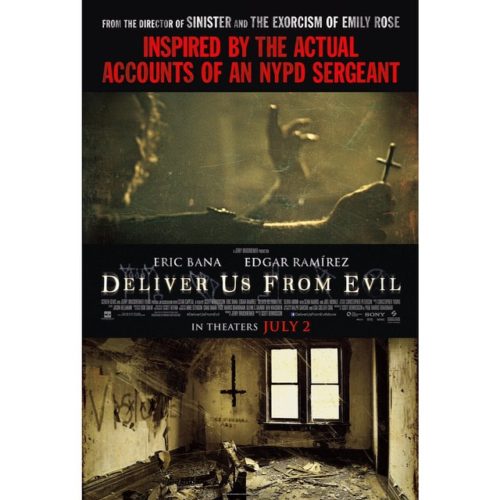 On Saturday I saw Deliver Us From Evil (2014) for the first time. This was my latest DVD screener I received from my job to review. When it first came out in theaters I had missed it. I never actually saw a trailer for it, only knew about this movie by its title, that is all. I was curious to see it but never made an attempt to see it on the big screen so this was the perfect opportunity to finally watch it. I had heard some mixed to good things about it.
Well I've finally seen it for myself and I must say it was a good horror/thriller but definitely not great. It was scary at parts but not as scary as it could've been. Some of the acting performances were pretty good but some were extremely dissapointing or even over the top. Though I don't mind Eric Bana, this was definitely one of his weakest roles to date. I didn't buy that accent to begin with… Joel McHale as the comic relief was kind of a double negative as I couldn't stand his character for one second. My favorite performance in Deliver Us From Evil is hands down from Edgar Ramírez! This came out of nowhere, I was invested in this character from the very first second he appeared. A well written character for the right actor, he's not bad on the eyes either. Olivia Munn did a solid job and Sean Harris was absolutely terrifying in this movie! The story was well thought out but I felt like this movie would've worked better if it were 20 minutes shorter. Also the middle act had a lack of suspense and dragged on.
At some moments this movie couldn't choose what it wanted to be: horror, supernatural thriller, drama? I was impressed by the make-up effects, the effective soundtrack and the direction of Scott Derrickson. Some great character development as well and I loved the possession/exorcism angle to it. There were a couple of well timed jump scares in it as well. In some retrospects Deliver Us From Evil sets itself apart from recent horror outings as it offers a surprise amount of substance. I can recommend it, even if its just for once…
Wanna read some more reviews of mine? Visit Ferdis Movie World on Facebook and you can find plenty of more!
–Ferdi Akkulak