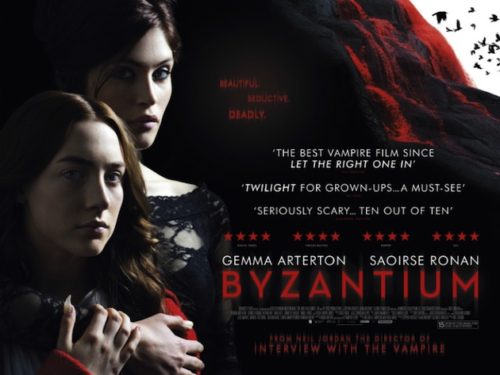 This Slasher Studios review comes all the way from the Netherlands as Ferdi Akkulak takes a look at Byzantium. Make sure to check out his video clips and subscribe to his Youtube Channel for more.
There was a lot of buzz surrounding the release of the movie Byzantium. It's a small, indie arthouse horror movie about vampires. It has a talented cast and also a talented crew behind the camera so there was obviously a lot of anticipation for this movie. To be honest, I never read anything about this movie but I did find the title for a few months in the release schedule and I think that in my opinion the title is pretty awesome. 'Byzantium'. What can that possibly promise as a movie title without going further into the plot. When I eventually saw the trailer I was pretty interested in this movie, it has its share of good red blood, an amazing female cast, great direction, stunning cinematography and of course a really original storyline. I could definitely tell that there were a few acting performances seen in the trailer that needs to be having an eye kept on it!
This amazing cast features the likes of: Saoirse Ronan. A young actress that has already proven herself as a truly fantastic actress at early age for her Oscar-nominated turn in the movie Atonement in 2007. I have not seen that movie however. I did see Saoirse Ronan star however in movies like: The Way Back and The Host. Two great movies where she pulled off some amazing performances. I really need to see her in Hanna yet, a lot of praise went to her performance in that movie. She's definitely an actress to look out for in the near future! Next up is the lovely and beautiful Gemma Arterton. A truly talented and stunning actress. I really like her in every movie I have seen her so far in. Those movies are: Quantum of Solace, The Boat That Rocked, Prince of Persia: Sands of Time and recently in Hansel and Gretel: Witch Hunters. I really look forward seeing her in Tamara Drewe, I won that movie on DVD yesterday so I need to see that movie ASAP. A really beautiful and amazing actress! Also starring in Byzantium are actors like: Sam Riley and Caleb Landry Jones (I have seen him as 'Banshee' in X-Men: First Class and also in Contraband).
Byzantium is directed by Neil Jordan. This director is known for directing the very famous 'Interview with the Vampire'. A pretty well known and cult classic of a movie I believe, I have not seen it yet but I do own the DVD. A lot of the promotion was all about that the movie was directed by the filmmakers of 'Interview with the Vampire' so that was probably a smart move. I think that considering how well known he is with fans and critics that he is the right guy to direct a movie like Byzantium (which is also about vampires but this time its about female vampires). I can already tell by seeing that trailer that it has beautiful cinematography and great camera shots. It's very exciting to see what the final result will be like. He has a good project in his hands, that's a given!
Byzantium is released by IFC in America. A distributor known for releasing indie films in theatres. In Holland this movie gets released by Cinéart. The running time of the movie is 118 minutes which is roughly 2 hours. This has me wondering and more excited of how this movie is gonna turn out to be. When I look at that running time it might mean that a lot of character development will get attention but also makes me wonder how much blood there will be in the movie or if there will be any action in Byzantium. I am pretty happy with this running time so let's hope the movie won't bore me. Byzantium was made for a reported £8 million pound. Not a figure for what that might be in dollars but I think that would be around $12.2 million dollar. It's a healthy budget in my opinion, they were not over doing it with the effect obviously and went really low budget, glad that was the case here. The movie has been released in America in Limited Release on June 28th 2013 and did very modest to bad at the box-office. It has to this day only grossed a small $75,566 which is not anything to write home about, especially considering its budget. Maybe it was a smarter move for them to release this movie to a bigger audience and see how it went. Reviews have been fairly positive for Byzantium. It has a Fresh score of 60% Positive on Rotten Tomatoes meaning that more critics loved it than hated it. It did better in foreign countries though but it only saw the light in 3 other countries than America. It made most of its money in the United Kingdom which makes sense. It also made a tiny margin of money in my country (Holland) but really something to be cheering about. It was released in theatres in my country on July 11th 2013 but in a handful of theatres, mostly arthouse with some major movie theatres. It was only shown in one theatre in my city so that means just how small this movie was released. Reviews here have been overly positive and made it look better than most of the released that opened that week. It didn't have strong buzz or anything but did have its audience. Not box office wise though… It did very bad at the box office in my country with only having a spot in the top 20 for one week only… It disappeared from the chart after that.
I finally was able to see Byzantium in theatres on July 24th 2013 (roughly two weeks after it got released and the last possible day to see this movie in a theatre in my city and I loved it! I am not sure if my expectations were actually really high before I saw the movie cause I was blown away! This is a movie that works for a lot of reasons and for a lot of different genre lovers. It has the perfect casting (the two lovely ladies are obviously the draw here, two amazing acting performances), amazingly directed by Neil Jordan, breathtaking cinematography, a surprise amount of blood for an arthouse horror about vampires, a good soundtrack, just the right kind of mood, amazing settings, locations, costume design and of course a script that interested me from beginning to end. This movie is strong and riveting and definitely not one that is forgotten very soon. Also the genre elements are amazing! Drama, Horror, Thriller, Suspense and Action. It all blended so nicely and made it into one good old fashioned smoothie called Byzantium! I do believe due to its reviews and box office life that this movie is underrated, big time! A lot of people obviously overlooked this one and compared it to fellow 'vampire' movie Twilight. Which is a really shitty comparison, especially if there is a quote on the poster that says 'Twilight for grown ups… A must see.'. It's not even a legit comparison so why make it anyway. Ridiculous. The acting performances of both Saoirse Ronan and Gemma Arterton were both stellar. They were exactly the opposite of each other and that made them blend in better in the human world. They made a great pair of mother and daughter. It was all very believable and realistic! In fact, I think these ladies deserve some Award Season love for their portrayals in Byzantium. Neil Jordan did one hell of a great job with the directing, this makes me wanna pop in the DVD of Interview with the Vampire into the DVD Player ASAP. I really like his style of filming, it's really phenomenal. Each shot has its own story.
I believe that fans of a good old fashioned horror story can lift their heart up with Byzantium. It's incredible and outright crazy what the share of blood was in this movie. I am talking about two decapitations, lots of stabbing with pointy nails and a lot of blood sucking. It worked for me, in fact they was the blood was showed to the audience was really in a unique way, it had a stylish way of showing the blood but also managed to be total brutal to look at. Now that is an accomplisment. The drama in this movie felt really refreshing to me and actually made me care and root for the two leading ladies. They just had amazing chemistry as mother and daughter that you just want everything to end up allright with them. Character development was really a hard task for a movie like this but they really pulled it off and I was left impressed. One downgrade: the movie had some pacing issues that were kind of confusing. It's kind of weird sometimes how they went from present to past and told some extra stories but in the end it all made sense to me.
Byzantium is one of those rare arthouse horror that knows everything from the genre and gives it a nice and refreshing twist to it. The movie had some comedic moments that were really cool, I also think that the suspense and mood is something that builds up very slow but good in some scenes. The cinematography is so powerful and really gives you a good look at past and present. The movie also manages to be some sort of costume drama at a lot of scenes and that is incredible and blends in just perfect to the story and the other genres that are in this movie.
I can recommened Byzantium on all the factors I mentioned about and you will still be left surprised. It's a movie that has the right ingredients to become a cult classic and have a massive following to it. It just needs to find just the right time for that. But as we all know, time will tell. I am definitely getting this extraordinary and special movie on DVD and it will stay in my collection forever! Such an original and great movie, I was impressed! The ending is really sad, especially if you have witnessed the development of the characters very closely. A perfect movie that has everything in it that I simply love!