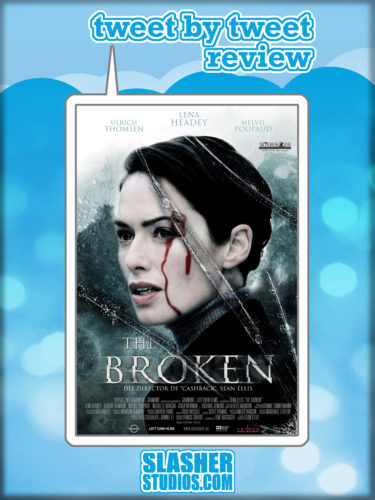 Our resident twitter reviewer Tim Schilling has been loving the After Dark Horror Collection so far with at least fairly positive reviews for Slaughter, The Hamiltons, and Autopsy. Today Tim is taking a stab at The Broken, a psychological horror movie that received solid reviews from critics but less than favorite marks from critics. Let's dig into this tweet by tweet review to see which side of the horror fence he lands up on.
Thoughts before the film:
Not too sure what #TheBroken is even about. But I gotta watch it!
Thoughts while watching:
0:11 The Broken… Mirror.
0:14 This movie should be called The Broken Mirrors cause that's all that has happened so far.
0:30 The Boring.
0:38 Along with showing about 5 mirrors break, they have showed the SAME car crash about 5 times now to
0:50 Something happen already.
1:05 How was this movie part of the After Dark Horrorfest? Besides that one scene with way too much blood, this is a drama.
1:20 This movie is almost over and basically nothing has happened. This tweet review is gonna be lame.
1:24 I guess the twist ending was kinda smart for the movie, but it doesn't make up for the rest of it.
Overall:
#TheBroken is the first movie from After Dark Horrorfest that I didn't care for. The film was shot great, but the story was painfully boring
To follow Tim on twitter: https://twitter.com/schillingt
To follow Slasher Studios on twitter: https://twitter.com/slasherstudios