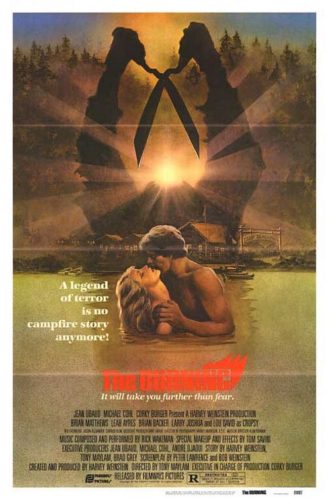 I can't dare to begin a classic 80's horror conversation without talking about The Burning. This 1981 work of near perfection really does fire on all
cylinders and keeps the audience enthralled throughout the duration of the 91 minute runtime. The kills are spectacular, the locations are to die for, the cast has the perfect 80 vibe.
The blood and gore within The Burning is top notch as Tom Savini works his magic and gives us some of the most memorable deaths ever to grace the silver
screen. The raft scene is produced with out a flaw and everything from the blood, to the shot selection, to the editing pace was well meshed to create
something very special. Location, location, location. We have all heard this phrase before and so did the locations scouts for The Burning. We are set in a summer camp near and lake and forest. Very classic 80's. I have always loved the camp feel for a slasher/horror location and is one doesn't disappoint.the water adds such a boost the the production value and gives great backdrops for the beautiful cinematography.
This is always a fun film to watch because we can look back and see the film debuts of the young Jason Alexander, Fisher Stevens, and Holly Hunter. They all give great performances and who can forget Larry Joshua as the classic jock, Glazer. Glazer adds a ton of fun to this movie and is always great for some comedic relief. I hope this film receives more of a following that it deserves. True horror fans know and appreciate this project but the general public has no clue this film even exists. Personally, I always make it a point to bring up The Burning during a movie conversation with a non horror fan in hopes to convert them to the world of Cropsy!