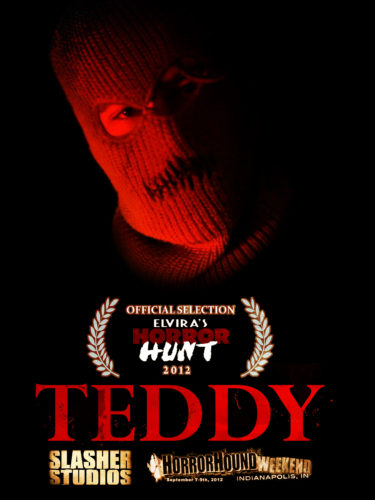 We have been teasing some brand new TEDDY news to you slasher fans on our Facebook page for the last two days now and, as a special treat, we are thrilled to be able to share the exciting news with you. TEDDY has been chosen as an official selection of Elvira's Horror Hunt next month at HorrorHound in Indianapolis. Here is hoping that Elvira and Peaches Christ fall in love with TEDDY the way that we have seen many other horror fans fall in love with the film. We are thrilled and honored to be part of this competition and we will see you at HorrorHound next month! Hope Elvira says some nice things about Teddy in her webisode. Oh..who am I kidding? The badder, the better!
Some information behind the festival:
"From all entrants, 13 feature films will be chosen by a special review board and screened at the Elvira's Horror Hunt Film Festival at Horrorhound Weekend in Indianapolis September 8th.
Elvira and Peaches will then review all 13 films via their Horror Hunt internet show and choose the top three films.
Those three films will be reviewed by a panel of prestigious horror industry professionals.
The Grand Prize winning filmmaker and a friend will be flown to Hollywood to attend their very own red-carpet, paparazzi and celebrity-infested premiere at Los Angeles' historic Vista Theater – hosted live by Peaches Christ and Elvira. The following day there will be a special press screening on the opening day of Comikaze Expo.
These events will be filmed to serve as the big "season finale" webisode.
FORMAT
Thirteen webisodes, each three to five minutes long, will center around Elvira and Peaches Christ reviewing one of the top 13 movies chosen by a qualified review panel. A fun and graphic opening credit sequence will set the tone for a wild, upbeat take on the horror universe while also introducing our out-of-this world hostesses. They will open each episode with a short, shared monologue that previews the current show. While clips from the movie play, the audience will see silhouettes of the back of Elvira and Peaches iconic hairdo's in the lower portion of the screen ala Mystery Science Theatre, while the girls riff off of the film and each other via biting commentary and playful sass."