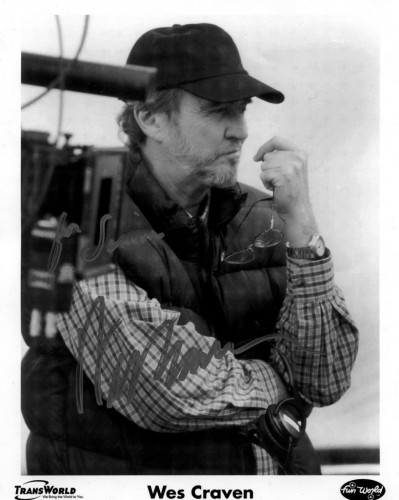 Wes Craven was born in Cleveland, Ohio, the son of Caroline and Paul Craven. He had a strict Baptist upbringing. Craven earned an undergraduate degree in English and Psychology from Wheaton College in Illinois, and a masters degree in Philosophy and Writing from Johns Hopkins University. Prior to landing his first job in the film industry as a sound editor for a post-production company in New York City, Craven briefly taught English at Westminster College and was a humanities professor at Clarkson College of Technology in Potsdam, New York. He left the academic world for the more lucrative role of pornographic film director. In the documentary Inside Deep Throat, Craven says on camera he made "many X-rated films" under pseudonyms, learning his directing craft. While his role in Deep Throat is undisclosed, most of his early known work involved writing, film editing or both. In 1972 Wes Craven directed his first feature film The Last House on the Left.
Craven's works tend to share a common exploration of the nature of reality. A Nightmare on Elm Street, for example, dealt with the consequences of dreams in real life. New Nightmare "brushes against" (but does not quite break) the fourth wall by having actress Heather Langenkamp play herself as she is haunted by the villain of the film in which she once starred. At one point in the film, we see on Wes Craven's word processor a script he has written, which includes the exact conversation he just had with Heather – as if the script was being written as the action unfolded. The Serpent and the Rainbow portrays a man who cannot distinguish between nightmarish visions and reality. In Scream, the characters frequently reference horror films similar to their situations, and at one point Billy Loomis tells his girlfriend that life is just a big movie. This concept was emphasized in the sequels, as copycat stalkers reenact the events of a new film about the Woodsboro killings occurring in Scream. Scream included a scene mentioning the well-known Richard Gere urban legend. Craven stated in interviews that he received calls from agents telling him that if he left that scene in, he would never work again.
He directed has since directed ever film in the "Scream" series, the most popular slasher series in the history of film. Although his two latest films, "Scream 4" and "My Soul to Take", were both considered box office disappointments, it is never wise to count out Craven. The seasoned director has proved for four decades now just what horror movie audiences want and how to deliver it to them.