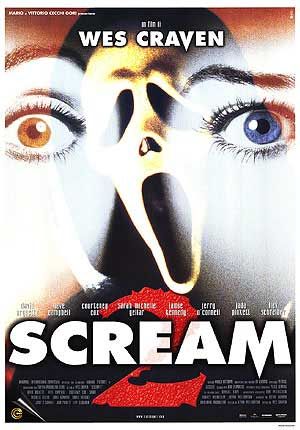 Following the events from the first film, we find Sidney Prescott (Neve Campbell) now attending Windsor College. At this point she receives prank call from people pretending to be Ghostface, unfortunately for them caller id is invented. Also attending Windsor with Sidney is our other survivor Randy (Jamie Kennedy). Sidney thinks the past events in Woodsboro is behind her, but when two of her fellow college students are murdered during a midnight screening of the film Stab (based on the book The Woodsboro Murders), Sidney realizes it's far from over. This time it appears someone is trying to make a real life sequel. Our other survivors Dewey (David Arquette) and Gale (Courteney Cox) appear at Windsor in hopes catching our newest killer(s). Many suspects come about including Sid's new boyfriend Derek (Jerry O'Connell), her best friend Hallie (Elise Neal), the newest fellow movie geek Mickey (Timothy Olyphant), and even the man from Sidney's past Cotton Weary (Liev Schreiber). Can our four heroes unmask this vicious killer before the loose ends are tied?
Scream 2 for me is the best college horror film because it takes place all over the campus. We have a fun sequel discussion in one of the film classes, chit-chat and Ghostface calls on the grounds, chase scenes in the Halls, and an amazing suspense-filled scene that takes place in one of the sorority houses. Any film can take place at a college, but when the film actually uses the campus for some of the major settings, that's when it's really well-done. In Scream 2's case, the campus almost becomes one of the characters in itself. All of the campus settings are so well-done and provide great suspense with the events that take place. One can only imagine how creeped out they would be if they would be in CiCi's (Sarah Michelle Gellar) shoes if they were in a sorority house alone receiving menacing phone calls. Or even being in Gale's situation by being chased and ultimately trapped by a killer in a sound room in one of class buildings. One scene I have to say is really artistically well-done is Sidney on the theater stage rehearsing with her cast members in the play, who are dressed like a Greek chorus and she thinks she sees Ghostface amongst the masked crew as different stage effects occur throughout it.
There is so much more that can be said about this film that I could praise it for, but I chose to stick to the college theme for this review, why I chose it as my favorite, and why it uses the college campus setting so perfectly.
—Cody Landman