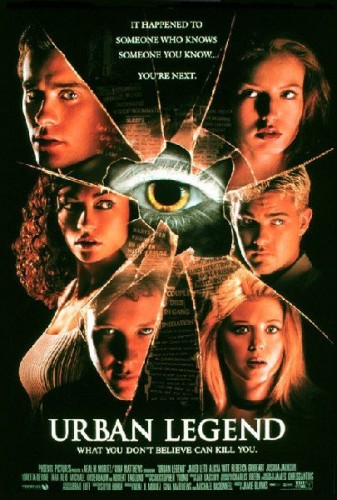 Let me start off by stating this fact; love or hate this film you have to admit it provided something a bit different in terms of content and you were wanting to see this when that first trailer first aired.
I love this film. Sure it has its cliches, but it turns the tables and continues the "whodunit" element seen in the Scream films with a nice little twist. Of course it doesn't hurt that this was littered with many of the "hot" stars of the time (Robert Englund in a nice red herring capacity, Brad Dourif, Natasha Gregson Wagner, daughter of Natalie Wood, in a nice little cameo, Joshua Jackson, Rebecca Gayheart, and my favorite Danielle Harris, in a hot ass goth look "SHUT THE FUCKIN DOOR"). The film also adds the element of a killer having an MO. Llet's face it as we enjoy saying Jason wields a machete, he rarely kills anyone with it. The way Urban Legend uses the legends leaves it open to a long list of ways of different murders.
The college setting here isn't a huge thing, but it does give us a way for our heroine to figure out what may be the killers next move and a way to lead her to a dead end. I love the way the deaths are executed, while the sequels tried to keep up the films use of Urban Legend deaths they strayed away, this film doesn't do that. I also love the reveal of the killer and how nuts they transform in a quickness. The motive is a bit disappointing as its just another "I lost someone I cared about" motive, but I guess it had to come from somewhere.
A few notable appearances are that of Tara Reid (American Pie films) and Michael Rosenbaum (Smallville, DCAU), the reason I point them out is because their characters are basically throw-away, but they made their presence known. How long has it been since we see a character weep about not wanting to die? Rosenbaum is remembered by me because he was just so out there. When you watch the gag reel feature on the Smallville DVDs, you can see this character come out. Besides he sees his dog cooked in the microwave..how messed up is that? The roles are for some forgettable, but for me I remember it well.
Alicia Witt, plays out heroine and although she will never be a scream queen, I still enjoyed her performance, she plays the heroine that survives because she is proactive and doesn't just survive cause she can ware down the killer. I will admit the film isn't the best example of a really good "college" surrounded slasher, but I really liked it.
—Eric Curto