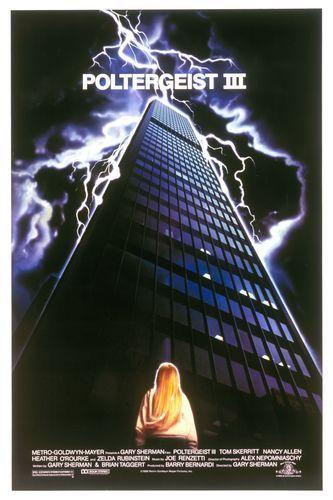 Hearing Kevin Sommerfield (editor's note: That's me!!) talking about Poltergiest 3 in his review made me what to talk about how I feel about this film. Poltergeist 3 is so underrated, and the most hated film in the series. But for me, I love it and it's my favorite sequel by far.
Carol Anne (Heather O' Rourke) has been sent to live with her Uncle, Aunt, and cousin in a tall Chicago apartment building. When Carol Anne is trying to move on from her past, and forget what happen to her, the dark evil preacher, Kane, is back for Carol Anne, and causing chaos for Carol Anne and her family. Will Carol Anne, and her family be able to stop Kane or will Kane win in the end?
Like I said, Poltergeist 3 is the most hated film in the franchise and it is very underrated. But for me, I love it and it really deserves more respect as a film in the franchise. I actually prefer it over Poltergeist 2 (1985) because it is totally different compared to the previous two films. I love the fact that it takes place in a tall Chicago building with mirrors for walls because that creates something creepy especially when you see Kane through the mirrors and the fact that even though Carol Anne has so many places to hide Kane always seems to find her. Also, Kane himself in this film is creepy too and he is one of the reasons why this movie creeped me out as a kid, and kinda still creeps me out now. I also love the actors and actresses in this film especially Nancy Allen, Lara Flynn Boyle, and Heather O' Rourke. It is sad to always watch the film though because of Heather O' Rourke passing before the film was finished. But out of everything in this film, Heather O' Rourke really holds the film up to being as great as it is. I don't think the film would be as good if Heather O' Rourke wasn't in it.
Also, the film has great effects, and scenes that you will remember when you finish watching it like the parking garage scene with the snow, the puddle scene in the parking garage, when Carol Anne first gets attacked by Kane, the opening scene, the last scene involving Nancy Allen's character and Kane, when a character gets their skin pulled off the side of their face, and much more. Also, the atmosphere is another reason that the film works so well because it creates some chilling moments when you watch it. Poltergeist 3 isn't as good as Poltergeist (1982),but it is by far my favorite sequel in the series and one of my favorite PG-13 horror films. I don't think the whole family would be able to watch this film and even the series with younger kids,but if teenagers want to start getting into horror films then I recommend this film along with Part 1 and 2.
–Justin Rhine