We are back featuring another filmmaker here at Slasher Studios with a tale from the youngest filmmaker featured this month. At only 15, writer/director Anthony Curry has known for a while he has wanted to make horror movies and not just any kind of horror movies. A special kind of horror movie… Read on to find out Anthony's inspirations for his latest film "Movie Night."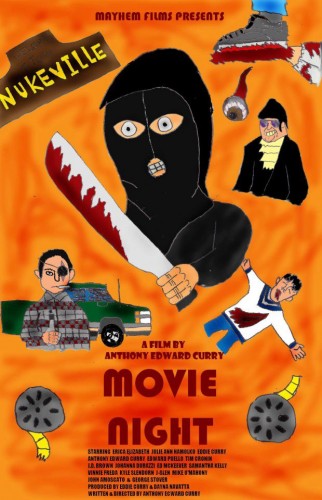 "Hello, my name is Anthony Edward Curry and I'm a 15 year old Director, Writer, Actor, DP, Movie lover, Horror expert, Special FX dude, and all around crazy filmmaker from New Jersey. I've been making films ever since I could pick up a camera. I started out wanting to be an actor and have acted on stage since I was very young. It gradually grew into me always having a role/cameo in the movies I directed. I am currently shooting my feature film Movie Night which should be premiering around December. I also had a role in a film and helped with some blood effects Directed by Mike O'Mahony Sloppy the Psychotic which was my first feature film that I acted in and being release by Chemical Burn Entertainment which will be available for purchase sometime next year. Along with Movie Night which I directed, wrote, starred in, did the special fx, and pretty much everything for that matter. I am a producer on 2 films Perseveration which is coming October 2013 directed by Adam Sotelo and Bikini Girls vs. The Surf Wolf directed by Kevin Orosz which is a part of an anthology film which I have a short film in Jigger and Kidds Popcorn Bag of Terror and the title of my short film in the anthology is Bucket 'O' Blood.
I also have a lot of feature film scripts that I've written and waiting for the money to make them (So if anybody has any money donations are appreciated) ahaha. Along with all those projects I have been asked to have a starring role in Johnny Dickies new flick City Of The Dream Demons. I have a very strange but funny character and I'm looking forward to shooting it. Many other acting/projects coming up that I can't really mention at the moment but they will be good! As of right now I'm really trying to finish up Movie Night and set up a late 2012 premiere. There are many things I want to do after I finish Movie Night. I have about 4 feature films set up to direct/write directly after Movie Night. So I'm very excited for those. Getting some big names involved.
There are many horror movies that inspired me to be a horror filmmaker. The one that comes to mind first is the original Texas Chainsaw Massacre. I remember my dad rented it on vhs when I was younger. I was 6 or 7 at the time so of course my mom wasn't going to let me watch it. So I snuck out of my bed and watched it behind the coach and loved every minute of it. After that I was hooked. I watched the original Halloween and that just blew my mind. When I got older I loved going into the horror section at the local DVD/VHS rental store and picking out the most gruesome disgusting looking covers I could find. I couldn't get of horror movies! I never was scared by them either which was weird. Also started going to horror conventions and talking to the people that were actually on set and that were in them made me love it even more. Started reading books on filmmaking and special fx which I picked up at conventions. I really enjoyed Lloyd Kaufmans "Make Your Own Damn Movie". Which got me into Troma like Toxic Avenger flicks and Poultrygeist. Started buying DVDS with special features on them with the making of and behind the scenes featurettes which made me understand what it took to make a movie. Sometimes it can be a blast and sometimes it can be a pain in the ass. But I will never stop making movies. I really gotta thank my dad who got me into all of this and who is an Actor/Producer in all my flicks. I will never stop telling stories!"
Check out Anthony's work:
http://www.imdb.com/name/nm5144156/
http://www.facebook.com/MovieNight2012
http://www.facebook.com/MayhemFilms
A teaser trailer for Anthony's newest film "Movie Night":