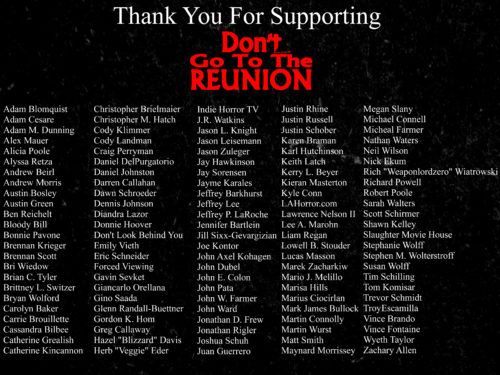 Words cannot begin to show my appreciation for all of the backers and supporters of Don't Go To The Reunion. We had 60 days to reach our goal on Kickstarter and we did just that. For a little while, the outlook was bleak, but the true slasher fans came through when it counted and we ended up exceeding to goal on the very last day.
It was an unreal feeling to know that Slasher Studios had such a loyal following. We had met many of the backers at festivals and conventions during 2012 and we have kept in touch ever since. I can't imagine fans of any other genre having such support and trust for what they love.
Once again, we must thank all of you that have supported the project and believe in Slasher Studios and its mission to create fun and high quality slasher films. We promise not to disappoint and we hope that all of you are just as excited to watch this film as we are to make it.