There is a brand new stop for slasher films on Facebook and that stop is The Slasher Stop. The creator of The Slasher Stop, Reece Donnell, shares with Slasher Studios an interview with the beautiful and extremely talented Rutanya Alda.
Can you tell us a little bit about your early life and how you got into acting? Was it something you always wanted to do?
My early life was spent in displaced persons camps – or DP camps as they were called for the people that fled the soviets after the war. There were millions of us, mostly starving, without anything but the clothes on our backs. i was in the camps for about 8 years. Luckily for me i was in the American zone, because people in the soviet zone got sent back and sent to the gulags – which were death camps really. But still it was very hard to get into a country legally and we had to wait for 8 years. We lived in conditions that were primitive. It was 4 to a small room the size of a big closet and a communal bath in the basement. I write about the is a play I am working on now, my one woman show, that I hope to next year bring to the Edinburgh fringe festival – forgive the spelling- I know I didn't get it right. i wanted to get into acting at age 5 when I saw a play in the camps and then about a year later I saw my first film. I decided right then and there that this was a special world that i wanted to be part of. And it was a lot better than the world I was living in.
You're first credited horror is in When A Stranger Calls, can you tell us about how you got that role and your experience working on the film?
I auditioned for When A Stranger Calls and got cast as Mrs Mandrakis. I had a wonderful experience working on the film even though it was a sad part. There was another scene in the film that got cut, which shows my character several months later, and zombie like with grief and unable to talk.
You've mentioned to me in the past that some of your material was cut from the final film, can you tell us about that?
I think a lot of things get cut in films. For one reason or another, the film may be too long and they have to cut somewhere, or they decide that the scene may not work or it takes away from the thrust of the story. It is always a disappointment to the actor.
Shortly after When a Stranger Calls you did a small role in a Christmas slasher movie called You Better Watch Out! Can you tell us anything about that?
I barely remember the Christmas slasher movie, it was cold and icy and I fell and hit my head on the ice and did my scene but really don't remember it very well. I should have gone to the hospital. I know I had a concussion.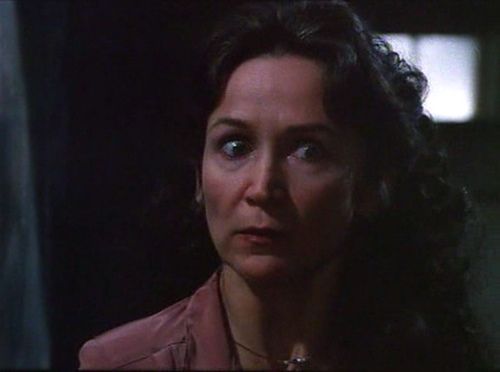 Can you tell us a little about how you got the role of the matriarch in Amityville II: The Possession? Did you audition?
On Amityville 2 the casting director Ricardo Bertoni had seen my work in some other films and a play I was doing on 42nd Street and had me in to meet Mr. De Laurentis. There were a lot of people being seen by him. When I walked in he spoke to Ricardo in Italian, looked at me, and I left. Ricardo called me afterwards and said they wanted to screen test me. I did and I was offered the part.
What was your experience like working on Amityville II?
I loved working on Amityville2. I loved the other actors and the director Damiano Damiani was Italian with an Italian crew. They were terrific.
Can you tell us a little about your cast mates, such as Burt Young, who was a huge star, and Diane Franklin who was on the rise?
Burt was fun, he always jokes around. Diane was the sweetest and still is.
I'm dying to know, do you believe in the paranormal or supernatural?
I think I do believe in the spirits or angels really. I think there are angels that watch over us and guide us. But I believe we have to ask them. I don't think they do anything that we don't want.
Tell us a little about Girls Nite Out, how did you get that role and what do recall from the set?
On Girls Nite Out, the producer and director had seen me in Mommie Dearest and loved me. So they had me in to meet them, and in spite of my work and resume, they still had me audition. The film was shot in one long weekend from Friday through Sunday. I think I got some sleep in between my shots. It was a one take experience. I am not thrilled that they promised to pay me $5000 and never did. That I think is not moral and it cheats the one person they can cheat – the actor.
There are rumors abound that Girls Nite Out was shot long before it was actually released in 1984, can you clear any of this up?
I think they released the film fairly soon. I don't think they waited a long time, but I'm not sure.
How did it feel to play the villain in a slasher movie?
I liked my character. Revenge characters are always fun to do. I think I can relate – like wanting to get paid for my work – and fantasising the revenge.
Lastly, you were in the film The Dark Half which wasn't released until 1993, can you tell us how you got that part?
The Dark Half – I met with George Romero, the casting director had me in as she was a strong supporter of my work, Terry Liebling, who is no longer alive unfortunately. She was a great casting director and person. I met George and just spoke with him and was offered the part.
I think we all want to know, what was George Romero like to work with?
George was great to work with, a real gentleman, kind and considerate. My scene with Timothy Hutton where he tortures me and slashes my throat and kills me was a lot longer that what is in the film. George told me that that scene really scared him so much and he just had to keep cutting it down. Isn't that interesting? I would never have expected to hear that from George Romero of all people. But I think it is because the scene is so real.
Finally, what's next for Rutanya Alda? Would you like to do more horror features in the future?

I just finished a comedy, Murder at the Howard Johnson's, at theatre row on 42nd Street. It was so much fun to do. We sold out the last two weeks. The audiences had a great time. Also i just finished 2 short films. One is headed for film festivals; the director is just finishing it up. I don't know what they will call it yet. The other short is called Kid, and it was fun to do. Now I have to really finish my book The Mommie Dearest Diary. I don't have much more to do, but I have to sit down next month and just spend that month writing and i think it will be done, how to publish it, I don't know yet. But I think there is an audience out there that will enjoy the book.
A huge thank you to both Rutanya Alda and Reece Donnell for the terrific interview. Make sure to like The Slasher Stop on Facebook for all the slasher goodness you can handle.