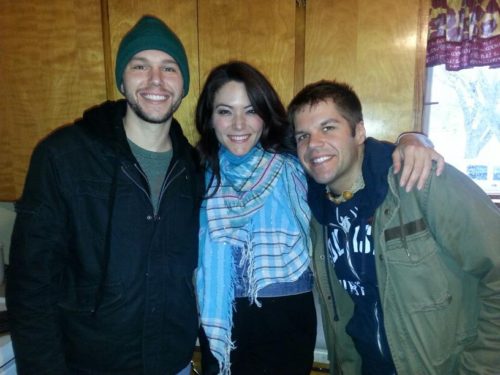 After months of preproduction, including script and characters changes, securing actors and locations, and finding props, it was finally time to start filming. The first location was at a local high school. We had access until 5:00 and that was cutting it close with all the pages we needed to get through. Luckily we had a great cast and crew and all we ready and willing to work and get the job done. It was a little hectic towards to end of the day, but we ended on a great note for our first day.
The second day of shooting was a park that I had visited many times as a kid. Baseball fields, a playground and tall old trees made this the perfect backdrop for this scene. Again, we were on a deadline…we had to be out by 10pm. It was cold and dark, but actress Tawnie Thompson was great in this scene and made it for an east shoot. Paul, our DP was on top of his game as well. It's not easy to light an exterior night scene, but Paul and Dave (head of everything and anything electric) worked to create a perfect looking night in the park.
So, off to the boonies we go. The home that we used for most of the shoot was about 35 min away from any real stores or civilization. There were two gas stations and a local restaurant in town, but not much else. By the last day, that back and forth drive was getting a little old to say the least. But, the house itself turned out to be all we could ask for. It had enough beds to house some of the cast and crew for two weeks and it was located right on a river that made for some great scenery.
This was a very demanding shoot and I couldn't have asked to work with better people. With long hours and a few overnights towards the end, each member of the crew was there, rain or shine. The cast was more than willing to go above and beyond for the film and did so many times. Stephanie was such a trooper as she left the film with multiple bumps and bruises. But she did all this physical acting while still delivering an amazing performance. A big thanks goes out to her.
Spencer was another incredible actor and I see only great things in his future. I loved seeing Stephanie and him work off each other in their scenes. It was a work of art. Brady was a great last minute addition to the cast and I now can't see Scott played by anyone else. I must also mention and thank Hannah for dealing with a mouth full of blood while laying on her back, Mike for staying up all night and going into work tired as hell, Hayley for not holding back and really becoming her character, and of course Nick for well, being Nick. Hands down the most naturally funny person I have ever met. He really kept the cast and crew at ease and gave us all laughs when we needed them. Johnathon was also a great find as he dove right into his character with not much rehearsal time. J.R. was also a great sport when it came to the "window" and he did a great job in his scene with Stephanie.
This films production value is way above what I could have hoped for. This is because of the great crew. Paul and I said is a master at lighting and Dave was there to adjust or set up a light at the drop of a hat. Cody really came through for us as the AC and worked hands on with Paul and learned much throughout the shoot. Props go out to Alex for obtaining great sound and to Zach as well for not only his great set decoration but for also his AD work to help us stay on track.
And of course I must thank Kevin for giving me the creative freedom my mind needs. Lots of on the spot decisions were made and I can not wait to watch the finished product. Now that editing begins, it will be fun to remember all the great times we had on set. We are hoping to have everything ready to showcase by early fall, so I guess I need to get back to Final Cut!
–Steve Goltz