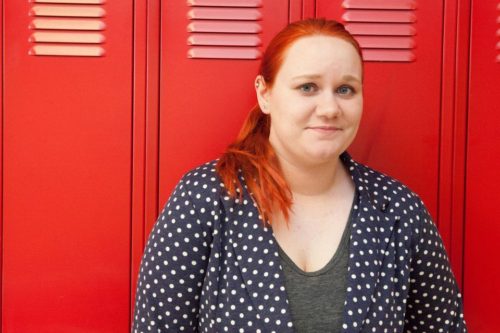 Hannah Herdt–Jessica Thompson
I've always been such a huge fan of Slasher Studios, so of course, when Kevin mentioned "Don't go to the Reunion during a break while we were shooting "Blood Brothers," I'd been excited about the project ever since. When I finally got to read the character descriptions before I taped my audition, I really loved the character of Jessica, so I'm extremely thrilled I got to bring her to life, and I hope I did her justice!
Working on this film was one of the best experiences I've had, and some of the most fun I've had in ages! Most of this is due to the amazing cast and crew that I had the privilege of working with. (Also, getting to stay for a week at the house we were filming at and getting to really get to know everyone really made this a great experience.) The crew was so great at whatever they happened to be doing, and some of the most professional people I've ever worked with! Paul was amazing behind the camera, not to mention has some killer dance moves, Dave is one of the smartest people I've met and just fantastic with all that equipment that I have no idea what it even does, and of course Alex doing great with the sound, and Cody, at his many many tasks! Also, we can't forget our lovely AD and behind-the-scenes photographer Zach, and the amazing John Pata! I'm so glad to have met them and I'd love to get to work with them in the future! Then, there's the amazing cast! At first I was very intimidated by all the talented people, but they were so great to work with!
Our amazing leads, Stephanie and Spencer really know their stuff, they made every scene seem so effortless, and I also think I learned a lot about my own acting by working with them. Steph especially had lots of great advice and always told me what I needed to hear. I also got to meet some other extremely talented actors! Tawnie and Brady were so fun during the school scenes, Nick was hilarious on and off camera (I actually had to cover my face during one of our scenes because I was laughing too hard!) and Hayley was just a sweetheart and was perfect in her role! Then of course I got the joy of working once again with the amazing Matty and Mike, who always do a great job, it was so nice to get to see them again, and also my good friends Jerry, and Marla, as the authority over at "Hamilton High" which was more frightening than any serial killer! I also have to thank my wonderful friends Mary, Taylor, Cassie, and Hannah Jaye for coming along to be extras! (And although I didn't get to see much of Johnathon, Kaleb, or J.R. I look forward to seeing their amazing performances in Oct!) And thanks to you-know-who-you-are for being very patient while I put a bunch of makeup on your faces… and bodies.
But of course, I can't talk about the cast and crew without mentioning the masterminds behind the whole project! I can never say enough about how much I respect and admire Kevin and Steve! Kevin has such a passion for the genre, that's very rare to find these days, and he's the best person ever to go to if you want to know anything about horror! This was also the best script I think he's ever written; the twist at the end even had me guessing! And Steve is just such an amazing director! He knows exactly how he wants the film to look, and how to get us to deliver every time. (He's also extremely patient about answering the zillions of questions I always have!) Without these guys, there'd be no film, and I also wouldn't have had this amazing opportunity, so thanks again, guys!
I have so many amazing memories from this shoot, and I'm so grateful I got to take part. I really felt like I was part of something amazing! I can't wait for the finished product, so we can see how all of our hard work paid off! From start to finish, so much dedication was put into this project, and I think all of our love for what we do is really going to show! See you guys in October!