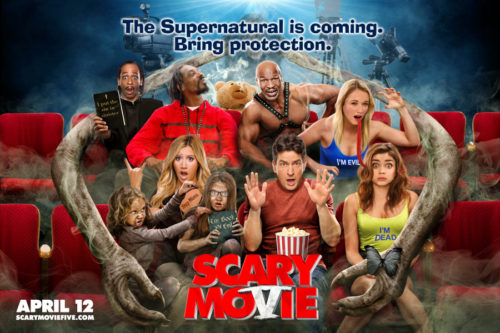 This Slasher Studios review comes all the way from the Netherlands as Ferdi Akkulak takes a look at Scary Movie 5. Make sure to check out his video clips and subscribe to his Youtube Channel for more.
I have to be completely honest with you, I have not seen Scary Movie 1, 2, 3 or 4 as a full movie. I only saw clips on Youtube. The funny things though like scenes with Cindy (Anna Faris) and Brenda (Regina Hall). Scary Movie 5 would be the first of the franchise that I would see on the big screen so it was definitely a mystery what I would think of this effort. The reviews have been lackluster and definitely the worst for the entire franchise so that doesn't help to go to this movie expecting something great. I lowered my expectations and then lowered it again. So I saw it today and it still couldn't cross my already low expectations. Now that I think of it this movie was pretty much a good waste of my time! Not that I payed for my ticket but wow looking back I could definitely have spent my time on some other movie. The humor and jokes were far too pushed to really bring in a laugh, I admit I chuckled a few times but that's it. And that was basically cause the humor was getting so mean spirited that I couldn't help but laugh what I just saw, it just showed how low they could go to have some decent amount of laughs.
Acting wise this is not the right movie to be looking if acting performances were perfect cause that wasn't obviously important for the filmmakers. Ashley Tisdale in the lead is a big change after the fresh breath of air Anna Faris in the original quadrilogy! I really like the actress so she has a benefit, her acting was good though. She has definitely some talent for acting and singing. I've seen her before in movies like High School Musical 1-2-3, Picture This! and in the Disney Channel TV-series The Suite Life of Zack and Cody! I still see this innocent young girl when I saw her in Scary Movie 5 that once showed all her enthusiasm in her prior roles. I'm glad she didn't change a thing at all! A beautiful and talented actress, definitely one to look out for in the future she is going to some places! Simon Rex was also a pleasant and likeable actor in Scary Movie 5, he was actually pretty witty during some moments. He also was in Scary Movie 3 and 4 but as a different character. Erica Ash was pretty hilarious in her role as Kendra, she showed enough energy and hilarity to pull off the role but she is no Brenda unfortunately.
Jerry O'Connell was also given a cameo in Scary Movie 5 as Christian Grey, he was pretty funny but yeah the spoof of Fifty Shades of Grey was too dumb to make me laugh. Sarah Hyland was pretty cool in the Evil Dead spoof as 'Mia'! Katrina Bowden a very likeable actress in my opinion and a very underrated one also had a cameo in the Evil Dead spoof, not much room for her to act besides for a few lines so an actress wasted in a bad movie. Her presence was great though! Bow Wow also had a funny cameo in the movie in the Evil Dead spoof, noticed that after I watched the movie. There was also a fun cameo in store for Usher, didn't expect that one. Lindsay Lohan was also in it, in my opinion is the scene after the credits so freaking funny with Lindsay that it's possibly the best I've seen from her since she was in Mean Girls! There is still hope for Lindsay! Charlie Sheen was just meh in the movie, not anything special.
Overall if I go through all the movies Scary Movie 5 has spoofed only a few are successful in my books and a lot are just not! The Paranormal Activity spoof was actually already a big part in the movie A Haunted House. I think that it was getting 'old' to spoof it twice. Spoofs for movies like Black Swan, Evil Dead and Sinister worked out great! A brief funny moment of a spoof for The Help was freaking hilarious! I couldn't stop laughing at that scene! However I didn't see a Ted spoof, disappointing since they were really advertising it on the poster! Overall the movie was disappointing but for the great cast (don't take this note seriously, you know what I mean) and the jokes were sometimes funny. It was at least a better movie than Yoko and Movie 43. THANK GOD! It's a trainwreck but I've seen worse! See it if you are a fan of the franchise, otherwise avoid this one!