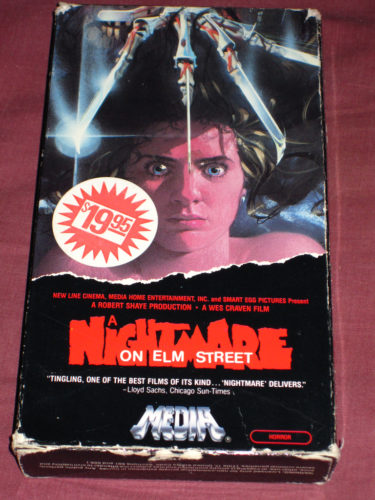 My first encounter with the horror genre is just as vivid in my mind as ever before. I must have been in either 2nd or 3rd grade when I first saw the one and only Freddy Krueger terrorize Nancy on a 20″ tube TV. I was over at a friends house and after we were done listening to Sir Mix-a-Lot and raiding his big brothers awesome cassette collection, we stumbled upon a movie neither of us had seen before: A Nightmare on Elm Street.
Being young and relatively new to horror films, I didn't really know what to expect. Needless to say, I loved the movie and found Freddy both scary and amazing. As we watched this, I couldn't take my eyes off the blurry screen. I was in a trance and as my friends mom spotted what we were watching, she quickly told us to turn it off. Like all young kids would do, we completely ignored her.
We continued to watch this film and I obviously had no idea the impact this film would have on my future. This work by Wes Craven would be a huge influence on me in years to come. We went on to watch the rest of the film and ended the day with some NBA Jam on Sega Genesis. Not a bad day.