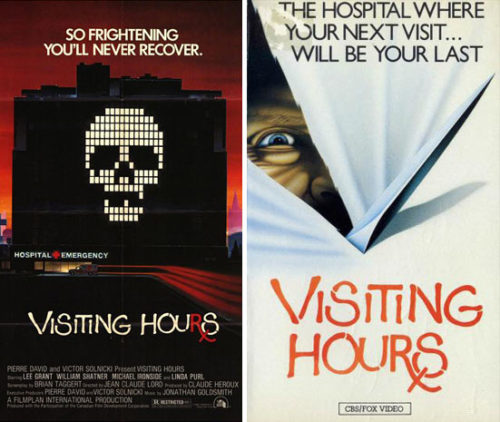 Scream Factory is at it again with the release of two 80's "hospital of horror" gems: 1981's feminist slasher Visiting Hours and 1988's supernatural shocker Bad Dreams. Both films being Fox releases, they arrive bundled on a single dual-layer Blu-ray disc courtesy of the current masters of resurrecting the bloody magic of yesteryear, Scream Factory.
Starring A Nightmare on Elm Street 3's Jennifer Rubin and Puppet Master III's Richard Lynch, Bad Dreams follows a girl (Rubin) who survived a mass suicide (by fire!) orchestrated by the leader of a cult (Lynch). After waking up in the hospital, she and her fellow patients are terrorized, apparently by the ghost of said cult leader. Suffice it to say there are casualties as Lynch works to reclaim the girl that got away.
Lee Grant (Damien: Omen II) and Linda Purl (TV's True Blood) are terrorized by misogynistic psycho Michael Ironside (Scanners) in Visiting Hours. TV personality Deborah Ballin's (Grant) crusade against domestic violence provokes the wrath of woman-hating killer Colt Hawker (Ironside), prompting him to break into her home and attack her. Ballin survives, however, and is sent to County General Hospital. Unfortunately for Ballin, her attack- and her location- are widely publicized, and Hawker comes to finish the job. When finding Ballin proves difficult, Hawker turns his attention to young nurse Sheila Munroe (Purl), who has befriended Ballin. While Ballin's utterly-useless lover/boss (William Shatner) tries to calm her, she and Sheila ultimately find themselves in mortal danger, struggling to protect each other from the vicious killer.
VIDEO: Both films deliver strong transfers. While Bad Dreams is a bit prettier to look at, Visiting Hours' visual appeal is handicapped by its drab, sterile hospital setting. The scenes featuring Purl and Ironside's characters outside of the hospital fare the best, but by no means is either transfer a slouch. Film grain is visible but never intrusive, though certain scenes in Visiting Hours make the actors look either sunburned or embarrassed, particularly Purl's first scene.
AUDIO: Bad Dreams gets the better treatment here, delivering a 5.1 DTS-HD soundtrack as well as the original mono. Visiting Hours is limited to a (lossless) mono track, but both films sound perfectly good.
EXTRAS: While this reviewer is usually not particularly concerned with extras, I must say I am pleased with the offering here, especially for a double feature. Bad Dreams once again gets the better deal, getting a director's commentary, two featurettes, behind-the-scenes footage, a lengthy alternate ending, and a traier. Visiting Hours gets a decent helping of extras as well, however. Three interviews, with writer Brian Taggert (Poltergeist III), producer Pierre David, and co-star Lenore Zann (Happy Birthday to Me), as well as TV spots, a radio spot, and a still gallery. Each film gets enough material to warrant one of Scream Factory's beloved Collector's Editions (Visiting Hours alone has more material than the Collector's Edition of the Jamie Lee Curtis slasher Terror Train), but instead, we get two for the price of one.
Overall, this is an excellent Blu-ray release from Scream Factory. If you enjoy either of these films, it is well worth the roughly $20 price tag.
–Joshua Dean