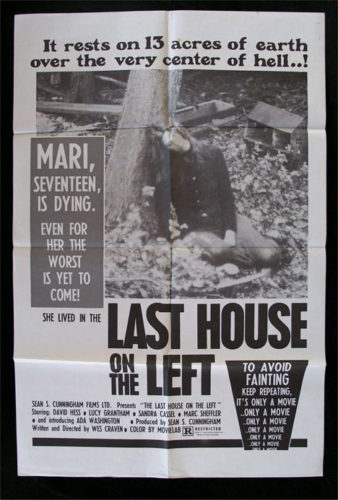 Kevin: Wes Craven's original masterpiece "Last House on the Left" is probably one of the hardest movies that I have ever had to review. Let me warn you first and foremost, those expecting a teenybopper horror flick like "Scream" are going to be in for a surprise. Ninety minutes of pure terror, "Last House on the Left" takes no prisoners and remains today just as powerful as it did when it was first released nearly forty years ago.
Steve: Definitely a unique Craven film, "Last House on the Left" has its moments of laughs, screams, and tears. With such a dark subject matter, it's nice to have a break with the parents being able to sprinkle in some fun moments here and there. The villains in the film are so downright disgusting, their acts will give you the uneasy feeling in the pit of your stomach. And that feeling will tend to linger with you as things go from bad to worse for our two main girls.
Kevin: Extremely graphic and brutally raw would still be downplaying how disturbing this is. The entire film is shot and filmed with a dark, dreary look that perfectly fits the sick tone of the movie. It's raw and powerful but don't say I didn't warn you. Let's just say, they don't make movies like this anymore. It really is too bad because this film is as much a masterpiece as it ever has been.
Steve: With a recent remake hitting the big screens, there is hope that a new audience will seek out the original. However if you have seen the artwork for the latest DVD release of this 1972 classic, the general movie-goer would tend to think they are picking up the remake. So, if you are one of the "kids" out there who enjoyed the remake, do yourself a favor and take in a piece of history with an original "Last House on the Left" viewing!