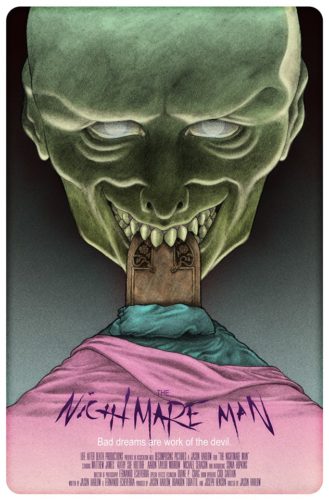 At Slasher Studios we like to spotlight up-and-coming horror films that we think are working checking out for all the horror fans out there. Today we are taking a look at The Nightmare Man, a new film written and directed by Jason Harlow, that has mere hours left on Indiegogo to raise funds. This sounds like a killer movie and for fans of Slasher Studios, they even have some Don't Go to the Reunion & Dismembering Christmas signed posters as rewards. Check it out below and remember to keep supporting indie horror!
From The Nightmare Man creator:
Hello, my name is Jason Harlow, and I am the writer/director of The Nightmare Man. With The Nightmare Man, my team and I want to make a film that is not only original and unique, but also 100% serious in tone and remarkably terrifying. We've already assembled an insanely talented cast and crew; all we need now is the funds to get this thing rolling.
We are looking to raise $13,000 to help cover the cost of special effects, post-production, catering, transportation, and locations, as well as the many other grueling costs we may be faced with over the course of the production of this film. Donations begin at just $1 and any donation of $50 or more will result in your name being listed in the closing credits! If you want to be a part of a ridiculously memorable supernatural horror film, here's your chance.
The film follows a man named Jonathan Nelson, who has spent his last few weeks suffering from insomnia. He soon begins to have trouble distinguishing the difference between dreams and reality after having a series of disturbing dreams orchestrated by a creepy figure known as THE NIGHTMARE MAN.
Become a backer: https://www.indiegogo.com/projects/the-nightmare-man-feature-horror-film
Like The Nightmare Man on Facebook: https://www.facebook.com/thenightmaremanmovie
https://www.youtube.com/watch?v=W93vRJa40a8