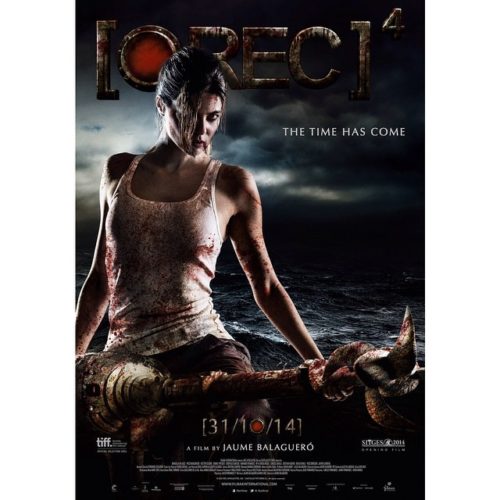 Yesterday I've watched [REC] 4: Apocalypse (2014) for the first time. This was my latest DVD screener I received from my job to review. I have not seen any of the previous [REC] movies before, but I heard that the final installment (4) is a direct sequel to [REC] 2.
However I'm trying to judge [REC] 4 as a standalone film, instead as a sequel. I have watched [REC] 4: Apocalypse and its a pretty extreme and intense Spanish horror movie. I was really impressed and surprised by it. The directing by Jaume Balagueró was really tense. The acting performances were rock solid as well, with the highlight being Manuela Velasco (Ángela Vidal) who gave a tour-de-force performance. This movie came very far with such a simple storyline. Horror and action were blended together perfectly. The first half of the film was more about setting up the story and characters which was interesting to see. The make-up effects on the zombie creatures were fantastic. In fact, the zombies in this film scared the hell out of me because they were so unpredictable. Too bad there wasn't any found footage angle in this sequel.
It could've made for a more claustrophobic viewing experience. I can see why fans of the [REC] franchise were left cold with this fourth entry, but I personally liked it. It makes me wanna go back and watch the other three [REC] movies as soon as possible. This movie also taught me that Spanish horror movies are a tad more effective and realistic than American horror movies. The plot twist at the end of the film was pretty unexpected. [REC] 4: Apocalypse will definitely please horror fans with its share of bloody and gory scenes. The story is simple, but the execution was well done. If this is indeed the definitive chapter of the [REC] series, than they did a great job ending it properly. Recommended!
Wanna read some more reviews of mine? Visit Ferdi's Movie World and you can find plenty of more!
–Ferdi Akkulak