We here at Slasher Studios have been touched with the outpouring of support for our latest slasher feature, Dismembering Christmas. Just in the past week, the film has been placed on three Best of 2015 lists and we just received this glowing review all the way from the Netherlands. Here are Ferdi Akkulak's thoughts on Dismembering Christmas. Make sure to like his official Facebook page for more killer reviews.
"On Sunday I watched Dismembering Christmas (2015) for the very first time. This indie horror/slasher is brought to you by Slasher Studios and marks their second feature film after the entertaining throwback slasher Don't Go to the Reunion (2013). Therefore they made waves with a trio of horror short films: Teddy, Popularity Killer and Blood Brothers. Dismembering Christmas is labeled as a Christmas horror in the vein of the original Black Christmas. It was funded through a Kickstarter campaign and I helped with the financing (just like I did with their first feature film). At this point I feel like the people at Slasher Studios are my family and I'm happy to be writing a review for their brand new movie. This movie was shot in just 12 days on a shoestring budget of $25.000. I watched it on the Limited Edition Blu-ray together with the original Black Christmas as a double feature of Christmas themed horror movies. After viewing Dismembering Christmas I think it's safe to say that I have "a new holiday tradition" of watching this excellent slasher on a yearly basis around Christmas time. It's amazing how Slasher Studios stepped up their game, as their second feature film easily rises above their first feature film.
The talented cast is excellent and each actor delivers a fine performance with the material they are given. The actress that stood out the most for me was definitely Leah Wiseman, as she was terrific in her role of Emma. Not only the comic relief of the film, but also the character that you're most rooting for to survive. This ensemble cast definitely has a close bond together and that is wonderful to see on film. The death scenes are beautifully shot and definitely don't hold back on the blood and gore department. The location where the film was shot is beyond gorgeous and that results in many amazing landscape shots of an isolated snowy town and superb exterior shots of the three-story cabin. The soundtrack was moody and defined its Christmas setting in my opinion.
Composer Dylan Curzon did a phenomenal job with scoring the movie as a crossover between It Follows and Black Christmas. The script is filled with tons of humor and writer Kevin Sommerfield has outdone himself with his brilliant script. Director Austin Bosley is a terrific addition to the Slasher Studios family, as I thought his direction was very effective. My main complaint with Dismembering Christmas is it's short running time of a little over 70 minutes. I feel like it affected the developments of some characters and the pacing of the story. It could've used an extra 15 minutes. The ending is perfect and leaves the door wide open for a sequel, but I did feel that the mystery of who the killer was could've been kept more under wraps. It's been a privilege to have witnessed how this movie got made through many updates on social media. Dismembering Christmas is one of the best indie horrors I've seen in awhile and a fresh and exciting entry in the dead or alive Christmas horror subgenre. For a hell of a good time, look no further! Make sure to rent this on Amazon or buy your copy through the Slasher Studios webshop. Support indie horror!"
To purchase Dismembering Christmas: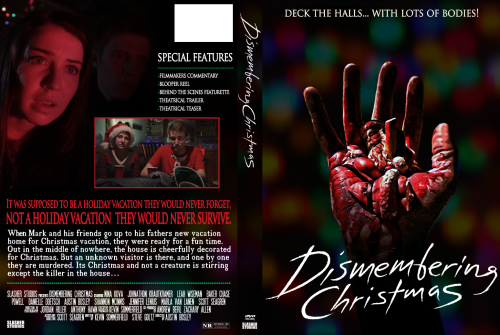 Don't forget to also pick up a Dismembering Christmas Limited Edition Tee!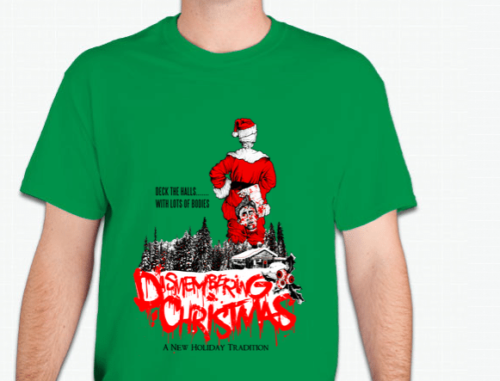 Artwork by the awesome Garreth Gibson Illustrations.