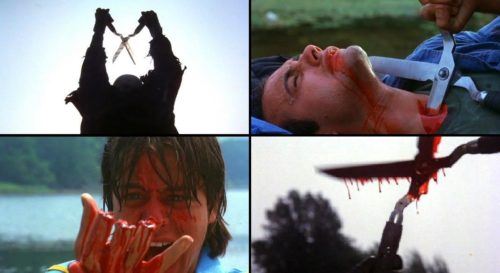 On Friday night I watched The Burning (1981) for the very first time as part of ‪#‎80sHorrorWeek‬ together with the awesome Midnight Society crew. I own this movie on Region 1 DVD since last spring, because it never got a home video release where I live. The Burning is directed by Tony Maylam (Split Second). The Weinstein brothers had written and produced this movie through their production company: Miramax Films. The cast includes: Brian Matthews (The Young and the Restless), Leah Ayres (Bloodsport), Brian Backer (Fast Times at Ridgemont High), Larry Joshua (Dances with Wolves), Lou David (Over the Brooklyn Bridge), Ned Eisenberg (Law & Order), Jason Alexander (Seinfeld), Fisher Stevens (Short Circuit) and Oscar-winner Holly Hunter (The Piano). A plethora of young actors made their acting debuts with this movie. The Burning has been recommended to me a lot in the past few years. As a devoted lover of 80's horror/slasher movies, I knew I had to watch this movie as soon as possible. And I'm glad that I did, cause I absolutely LOVED it! The story is interesting enough and doesn't feel like it tries to rehash or rip-off the concept of the original Friday the 13th. The death scenes are bloody, brutal and shocking. Tom Savini did an outstanding job with the blood and make-up effects and in that department it's truly a step up from Friday the 13th. His creation of Cropsy is sheer genius.
If you happen to own the MGM DVD, than watch the special feature: "Blood 'n' Fire Memories". You can thank me later! The murder weapon (hedge clippers/scissors) is creative and effective. The camp setting in this movie looks beautiful and I love the "upstate New York" locations. The characters are stereotype and none of them really stand out (this hurts the "final girl" aspect), but you can't help but love these goofball characters. The camerawork is solid and the cinematography is eye-catching. I feel like the movie loses some steam towards the end, but The Burning is a purely entertaining 80's slasher none-the-less. I also must note that the soundtrack is wonderfully composed and creates a good atmosphere. It's truly a shame we never got to see a sequel to this movie, or even a possibility for a franchise as Cropsy is an interesting villian and I wanted to see more of him. The ending definitely left the door for a sequel wide open.
I honestly don't want this movie to ever get remade. They'll never manage to dethrone the campy 80's style. If you're a fan of horror/slasher movies, than I highly recommend you to give The Burning a chance. It shouldn't be labeled as a clone to Friday the 13th, as both movies have plenty of redeeming qualities and are equally fun to watch.
–Ferdi Akkulak