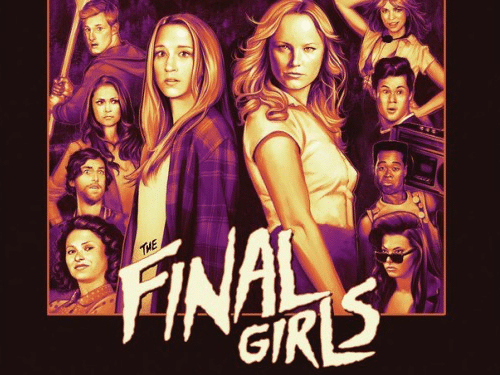 On Saturday night I watched The Final Girls (2015) for the very first time. This movie was never released in theaters where I live and I had to wait a little under three months until it was finally available on DVD and Blu-ray format. In those three months I've heard many great praises from the horror community and by the looks of the amazing trailer I wouldn't have expected anything else.
The Final Girls is directed by Todd Strauss-Schulson (A Very Harold & Kumar 3D Christmas). The cast includes: Taissa Farmiga (American Horror Story), Malin Ã…kerman (Watchmen), Adam DeVine (Workaholics), Thomas Middleditch (Silicon Valley), Alia Shawkat (Arrested Development), Alexander Ludwig (The Hunger Games), Nina Dobrev (The Vampire Diaries), Angela Trimbur (Halloween II) and Chloe Bridges (The Carrie Diaries). I have finally seen The Final Girls and I absolutely loved every second of this masterpiece. Easily one of the best horror comedies I've ever seen in my life. It turned a smile on my face and it even had me on the verge of shedding a tear in some scenes. It is innovative and altogether nothing short of excellent. The acting performances are very solid and the standouts were without a doubt: Taissa Farmiga, Malin Ã…kerman, Thomas Middleditch, Nina Dobrev and Angela Trimbur. Especially the chemistry between mother and daughter (Farmiga and Ã…kerman, respectively) was really strong and believable. The script is brilliant and features many winks to cheesy dialogue of horror movies from the 80's. Totally quotable! The direction from Todd Strauss-Schulson is superb, as he really manages to capture a perfect camp setting without trying too hard. The cinematography is gorgeous and the soundtrack is outstanding. The song "Bette Davis Eyes" by Kim Carnes has been stuck inside my head ever since I've heard it in this movie. I'm definitely planning to purchase the Soundtrack CD. The Final Girls features many iconic moments, the characters are relatable and the visuals look stunning. The picture quality on the Blu-ray looks fantastic.
My main complaint with this movie is the lack of blood, gore and nudity. The PG-13 rating could've easily been an R rating. I feel like it's a missed opportunity, but a bigger audience can be reached with a PG-13 rating and I think the makers were having the exact same idea. The Final Girls is a near perfect horror/comedy with a heart in the right place. I highly recommend it to everyone! Destined to become a cult classic, it's only just a matter of time. The ending makes room for a sequel, which we'll hopefully get one day. I fully support that idea.
–Ferdi Akkulak