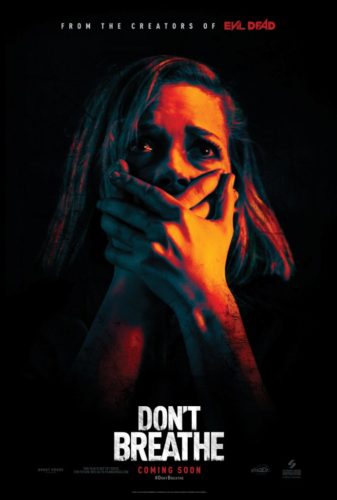 On Sunday night I watched "Don't Breathe (2016)" in theaters with my sister for the first time. I've been anticipating the release of this movie ever since the first poster was unveiled. The trailer that followed shortly after made me even more excited. The thing that thrilled me most about this project was the second collaboration between director Fede Alvarez and actress Jane Levy – who first worked together on the highly successful reboot of "Evil Dead (2013)". Sam Raimi once again served as a co-producer for Alvarez' sophomore project.
I adore the four lead actors and I've seen each of them in at least one other movie before: Jane Levy (Evil Dead), Stephen Lang (Avatar), Dylan Minnette (Let Me In) and Daniel Zovatto (It Follows). The movie received overwhelmingly positive reviews upon its release and I was very happy to see that. This was definitely a movie that screamed to be watched on the big screen. As a result, I absolutely loved this movie! I would honestly go as far and say that Don't Breathe is a slight improvement over Evil Dead in terms of creativity. I was delighted to see Fede and Jane step on original ground this time around. The acting performances are impressive and feel realistic considering the circumstances.
Jane Levy delivered another top notch performance and I hope to see her in more (horror) movies in the near future. Dylan Minnette was also genuinely amazing in this. Daniel Zovatto has a small role, but he's an interesting actor with potential. Stephen Lang was downright terrifying in his role of The Blind Man. He nailed it! The tension throughout this movie is phenomenal. No cheap jump scares to be found here. The twist near the end was shocking. I wouldn't say that it gave the movie more power, but it totally came out of nowhere. Fede Alvarez has truly outdone himself! It's rare for me to feel sympathy for characters that are supposed to be unlikable, but Levy and Minnette's characters did the trick. The ending gives the audience closure, but leaves room for a sequel. Don't Breathe is a brutal, kick-ass, original and scary thrill ride. The best movie of the year. Go see it!
–Ferdi Akkulak