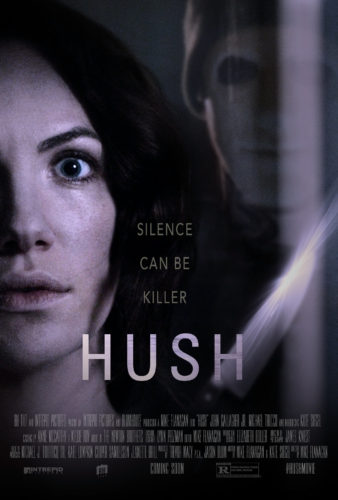 On Monday night I watched "Hush (2016)" on Netflix for the first time. This movie is directed by Mike Flanagan (Oculus). The cast includes Kate Siegel (Ouija: Origin of Evil), John Gallagher Jr. (10 Cloverfield Lane), Michael Trucco (The Bye Bye Man), Samantha Sloyan (Grey's Anatomy) and Emilia Graves (Pitch Perfect). Hush was released exclusively on Netflix through Jason Blum's BH Tilt division. Over the last months I've heard so many great things about Hush. I was sold by the premise alone and I managed to NOT watch a trailer for this movie beforehand. Mike Flanagan is a household name in the horror genre at this point following his critically acclaimed outings "Oculus (2013)" and "Ouija: Origin of Evil (2016)". Without further ado it is safe to say that Flanagan has threepeated with the addition of Hush! This movie had me on the edge of my seat multiple times.
For a movie that deals with another home invasion scenario it felt super non-formulaic. The acting performances are stellar. Kate Siegel pulls off a brilliant performance as our deaf-mute lead Maddie Young. The role obviously didn't require any actual dialogue, but the actress's believably comes from her showcase of fear and bravery. Definitely keeping an eye out for this actress in the future, because she certainly needs to land more roles. John Gallagher Jr. also did an effectively great job as the psychotic killer with no name. The tension build up is excellent and the soundtrack by The Newton Brothers helped to achieve that. I love how this movie wasn't afraid to get bloody and brutal.
Mike Flanagan truly created something special and authentic with Hush. The only thing that I didn't like was the unmasking of the killer in the first act. The movie could've been a lot more creepy and unsettling if the killer kept his mask on throughout the entire running time. Hush is a short, but sweet home invasion movie with a twist. I highly suggest you to seek this movie out on Netflix – if you have a subscription of course. Hopefully this movie will get a worldwide DVD/Blu-ray release in the near future for the masses. Easily one of the best horror films in modern history!
–Ferdi Akkulak