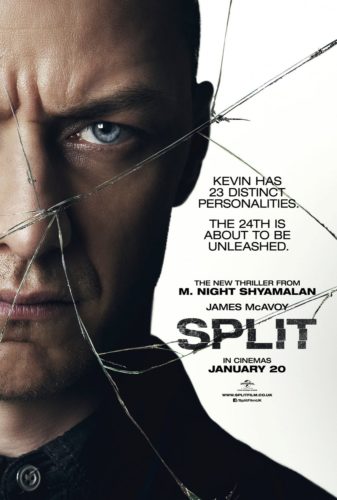 About a week and a half ago I watched "Split (2017)" in theaters with my sister. This movie is directed by M. Night Shyamalan (The Sixth Sense). The cast includes James McAvoy (X-Men: First Class), Anya Taylor-Joy (The VVitch), Betty Buckley (Carrie), Haley Lu Richardson (The Edge of Seventeen) and Jessica Sula (Skins). I was excited about this movie ever since I saw the trailer for the first time in theaters during previews. I am familiar with the work of Shyamalan, but so far I had only seen After Earth and I heavily disliked that movie. I definitely need to start watching more of his older work soon. Split was met with terrific reviews from critics and audiences alike. It wouldn't come as a huge surprise that I ended up loving this movie as well.
Split is one of those films where a lot of things just work. The storyline is fresh, original and full of unexpected twists. The acting performances are top notch. James McAvoy easily delivers his best performance to date and does a fine job by making you feel uneasy with his multiple character portrayals. Anya Taylor-Joy is an absolute trailblazer in this movie. I have yet to watch The VVitch and Morgan, but I can see this being a career defining performance for Taylor-Joy. Her scenes with McAvoy's multiple personalities were hands down the best scenes. Betty Buckley was tremendous every second and her character offers more insight into the movie. Haley Lu Richardson and Jessica Sula were both impactful during their limited amount of screen time. Shyamalan did outstanding in the writing and directing department. This movie revolved so much around character development and I think 50/50 of that aspect succeeded. I wish more of Kevin's 23 distinct personalities would've "come to the light".
The back and forth between present and past was a nice touch though and made the story more authentic. I took this movie very seriously unlike most audience members that misinterpreted things and started laughing about a mental disorder. The twist ending came out of nowhere and has left me with some homework to do. Split is a disturbing psychological horror with a message. Highly recommended!
–Ferdi Akkulak