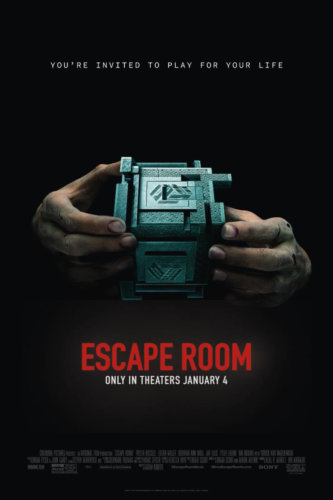 A group of strangers are invited to a building that houses an escape room in hopes of winning $10,000. What they think might be an ordinary escape room turns out to be all too real and all too deadly. 
Going into Escape Room, my expectations were pretty low, but by the time I left, I was pleasantly surprised. At first when the opening scene ended, I was a little apprehensive that it missed out on being R rated and bloodier. However, at the movie progressed, it wore its PG-13 rating really well and didn't bring itself into territory where blood and gore wasn't needed, this isn't Saw or even Cube, despite having similarities to the latter. It may not reach the levels of those two films, but Escape Room manages to stand on its own two feet as its own thing. The film is actually a blast of a film with enough intensity that really drives the film. Each escape room is really well-designed as a set and the way the rooms work are pretty crazy. What adds to the fun is trying to figure out the clues along with the characters and hope that the characters you like make it out alive. As for the characters, I actually liked all of them except for two of the six. The cast themselves all did a fantastic job, especially Taylor Russell as (essentially the lead character) Zoey, Logan Miller as Ben, and Deborah Ann Woll as Amanda. Each of the six characters have their own backstory and are actually fleshed out better than I expected, and all of them are really well-established before they are killed. The reveal in the middle of the movie that reveals their connection felt legitimate and served the plot well, however, there were some elements involving the twist that felt a little farfetched.
There was one turn in the film that I really enjoyed even if I should have seen it coming, it felt like a nice surprise. It does bring emphasis on who the game maker is and that ultimately doesn't really go anywhere or reveal anything that could have, so by the end of the movie I was expecting another shocker at the reveal of the game maker, but it didn't reveal anything interesting. Speaking of the ending, we have an additional 7 minutes of movie left after what should have been where the movie ended. These extra 7 minutes felt extremely tacked on, stupid, cheesy, and unnecessary. 
Escape Room might not end up being remembered by the end of the year, or even end up being one of the best horror films of the year, but damn this was a blast of a movie and a fun one to start the new year.
–Cody Landman