Danielle Harris is, and has always been, one of my favorite "Scream Queens". She has shown a dedication to the genre ever since she was a child. She has appeared in over two dozen horror movies, four of them in the "Halloween" series: "Halloween 4: The Return of Michael Myers" and "Halloween 5: The Revenge of Michael Myers" as Jamie Lloyd and Rob Zombie's remakes "Halloween" and "Halloween II" as Annie Brackett. In 1988, she auditioned and was chosen (beating out Melissa Joan Hart) for the part of Jamie Lloyd, Michael Myers's niece, in the movie "Halloween 4: The Return of Michael Myers". Just one year later, she would reprise the role in "Halloween 5: The Revenge of Michael Myers". The character of Jamie returned in 1995 for "Halloween: The Curse of Michael Myers" but Harris did not participate due to disagreements regarding the changes to her character on the script. After seeing the final film, at least part of me is glad that she didn't participate.
Harris would later return to the franchise in a much different role, that of Annie Brackett, in Rob Zombie's "Halloween", a 2007 reboot of John Carpenter's classic 1978 original. In this film, she had nudity for a sex scene and her encounter with the dangerous Michael Myers, a career first. She stated "[It] is something that I wanted to do because everyone's like, 'Oh, she's little Jamie. She's 14.' And it's like, no, actually, I'm 30. It's something that I've never done before." She reprised her role in Zombie's sorely underrated "Halloween II".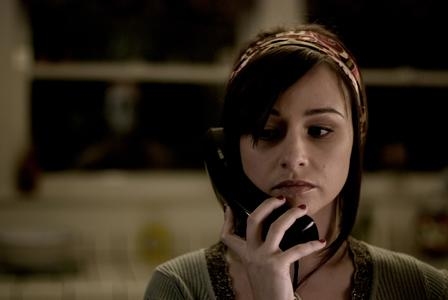 Harris has continued to show her horror love today to amass some very impressive film credits. Her films "Godkiller" and "Blood Night" saw DVD releases in late 2009. Fear Clinic, a Fearnet original web series, featuring Harris alongside horror legends Robert Englund, Kane Hodder, and Lisa Wilcox. The fun web series made debut the week of Halloween 2009. Since then she has thrived in horror appearing in "The Black Waters of Echo's Pond" and taking over Tamara Feldman's role of Marybeth in the horror sequel "Hatchet 2". She is set to star in Night of the Living Dead: Origins 3D, director Zebediah de Soto's retelling of George A. Romero's 1968 classic zombie film.
This week we salute Danielle Harris and we can't wait to see what screams are in store for this amazing queen of horror.