In order to get ready for our Blog Talk Radio show airing July 20th at 10pm, we decided to consult another slasher fan, James King, to see what top 10 horror movies he would like to see remade. His list is a good one and we will have to see tomorrow how many, if any, might also appear on our official list. Thanks again James for your list!
Click on the link below to listen to our show live or to check out one of our previous shows:
http://www.blogtalkradio.com/slasherstudios
James' Top 10 List: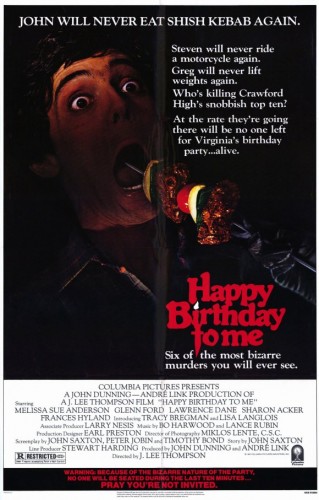 1. Happy Birthday to Me (1981)
"You're invited to the bloodiest party of the year."
After losing her memory in a freak accident, Anderson returns to her school and an exclusive club. Days before her birthday the club members are gruesomely murdered.
2. Bad Dreams (1988)
"The scream you don't hear… Is your own."
Cynthia is the comatose — but sole — survivor of a mass suicide committed by a religious cult she belonged to. Thirteen years later she awakens from the coma and begins group therapy sessions, but soon she is plagued by horrific nightmares about Harris, the cult's presumed-dead leader. When members of Cynthia's therapy group start to die in gruesome, mysterious ways, Cynthia cannot help but wonder if Harris is really dead, and if not, will he come after her to finish what he started 13 years ago…
3. The Funhouse (1981)
"Pay to get in. PRAY to get out."
Two teenage couples decide to spend a night inside the spooky funhouse of a traveling carnival, in this horror treat from cult director Tobe Hooper. Once inside, they find that there is no way out of this deadly hall of mirrors — with its white-trash zombies, sexual assaults and relentlessly gruesome murders.
4. Stage Fright (1987)
"The theatre of death."
A troupe of struggling stage actors is rehearsing for a small-town production of a play. Everything seems to be as it should until one of the cast members turns up dead. In a panic, the others try to get out, only to find they are now locked in the theater with the killer! Which one of them committed the murder, and who will get out alive?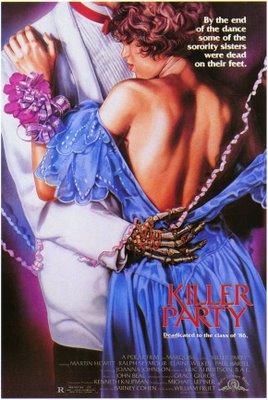 5. Killer Party (1986)
"By the end of the dance some of the sorority sisters were dead on their feet."
A sorority holds an April Fool's party in an abandon frat house that was closed down, because of the accidental death of a pledge. As all the guys and girls arrive, it appears the pledge's spirit has never left the house and is determined to get revenge on somebody.
6. The Slumber Party Massacre (1982)
"Close your eyes for a second, and sleep forever."
A group of scantily clad young ladies find it difficult to get any sleep when a mental patient shows up at their slumber party with an electric drill.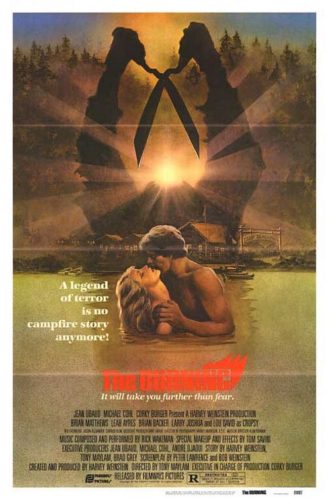 7. The Burning (1981)
"Gather Around the Campfire to Die!"
A former summer camp caretaker, horribly burned from a prank gone wrong, lurks around an upstate New York summer camp bent on killing the teenagers responsible for his disfigurement.
8. Terror Train (1980)
"The boys and girls of Sigma Phi. Some will live. Some will die."
A masked killer targets six college kids responsible for a prank gone wrong years earlier and whom are currently throwing a large New Year's Eve costume party aboard a moving train.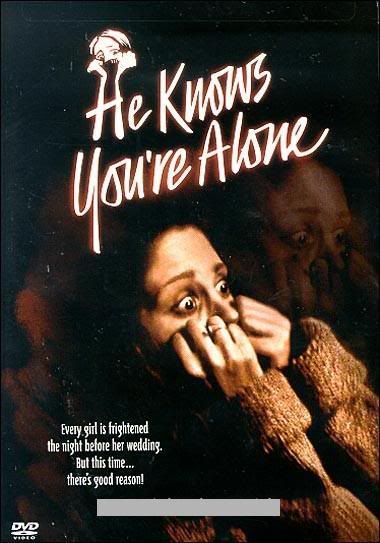 9. He Knows You're Alone (1980)
"Every girl is frightened the night before her wedding, but this time… there's good reason!"
A reluctant bride to be is stalked by a serial killer, who only kills brides and the people around them. Years before, the girl he loved rejected him for another man, and he killed her just before their wedding night. While her friends are murdered one by one, a hard boiled renegade detective, whose bride was the one that the killer murdered, tries to hunt him down before it is too late. Meanwhile, the bride has to figure out if it is all in her imagination or not, with the help of her ex-boyfriend.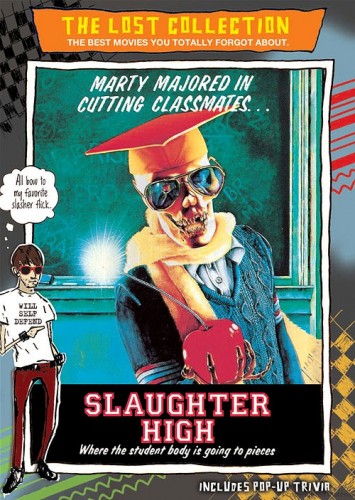 10. Slaughter High (1986)
"Marty majored in cutting classmates."
Marty was the nerd everyone made fun of. Now it's five years later and he's throwing a reunion for all his old "friends" – does he have a surprise for them? Five years ago Marty got mad…Now he's going to get even.