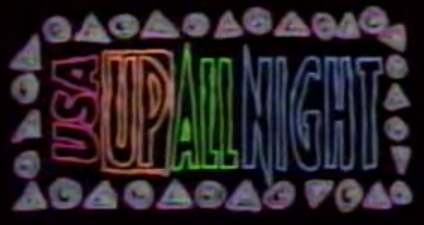 Not long ago, I commented on how much I missed USA's Saturday Nightmares and the response among horror fans was overwhelming. We NEED another horror night featuring the slasher goodness of the 1980's. While that doesn't appear to be happening in the near feature, I decided that today we should celebrate another great staple of the late 80's and early 90's trash television: USA's Up All Night.
For those of you that don't remember or are too young to remember, USA Up All Night (also known as Up All Night and Up All Night with Rhonda Shear) was an American cable television series that aired weekly on Friday and Saturday nights on the USA Network. The program consisted of low-budget films, bookended by in-studio or on-location comedy skits featuring the show's hosts. In addition to skits, the hosts would also provide sardonic comments about the featured film(s), and observations on various Hollywood- and/or New York City-area clubs and attractions (when the series was shooting out of studio).
The movies aired ranged from cult classics, to B movies, to other fare not appearing on television frequently. Up All Night would regularly show sexploitation films, with the explicit content edited out. Actress/comedienne Caroline Schlitt originally hosted the Friday night show, while comic Gilbert Gottfried hosted the Saturday night show. When Schlitt left the program in 1990, comedienne/B-movie actress Rhonda Shear replaced her on Fridays.
In 1998, USA came under the new management of Barry Diller, and decided to go for a more general and upscale type of viewer. This meant many of USA's long-running series were either overhauled or canceled – Up All Night ended up among the latter. The network relieved Shear and Gottfried of their hosting duties (while still showing the Up All Night imagery before/after commercial breaks), and began airing re-runs of mainstream films that appealed to a broader audience. Eventually, the Up All Night name, music, and graphics were completely removed from the films.
But, thanks to the internet…USA's Up All Night still lives on. You can catch many segments over on youtube and I have included some of Rhonda's best moments as a reminder of a simpler time. USA, bring back the classics!