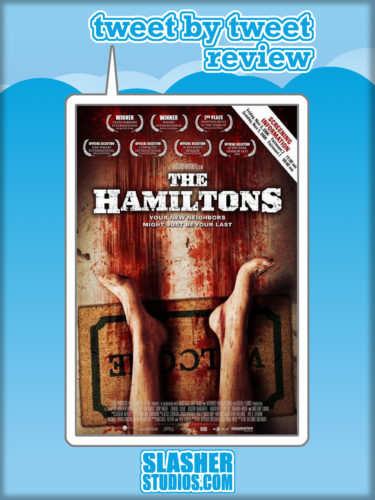 Our resident twitter reviewer Tim Schilling is back with a brand new horror review for us. Today, Tim is taking a stab at the grossly underrated After Dark Horror Fest selection "The Hamiltons." I've loved this little gem of a horror movie since it was first released. Does Tim feel the same way? Let's dig in and find out!
Thoughts before the film:
I didn't care for #TheHamiltons the first time I watched it,but everyone else seems to think it's one of the best from After Dark Horrorfest. Sooo maybe I'll give it another chance!
Thoughts while watching:
0:10 Stupid blonde… It's raining out, there wouldn't be any stars.
0:16 "what do you call it?" "Death."
0:16 What are the chances that all of these events would happen, and the baby doll would actually end up in Hollywood?
0:20 This is what I didn't like about this movie before, it's so random. Who was that old guy at dinner?
0:32 It's awkward to watch the oldest brother talk to anyone.
0:36 Oh shit, she did triple dare in dare or double dare. We got a bad bitch.
0:37 Incest incest incest!
0:44 I wanna know what Lenny is!
0:57 She sucks on her bloody finger and thinks nothing of it?
0:58 Even if they didn't have Lenny locked downstairs and those people chained, this family would be fucked up.
0:59 Unless they're vampires…
1:03 These twins man. They're freaking me out.
1:14 Lenny, I wanna know what you are and what you look like.
1:17 ~*spoilerZ*~ They are vampires! That makes more sense now.
1:22 Lenny is just a kid! I wanted to see a monster thing. But his little room was way too creepy.
Overall:
I really like the story behind #TheHamiltons, but I don't think the movie played it out well. It was confusing and very random at parts. Even though I don't think the plot was made well for the movie, I thought the film itself was made very good. #TheHamiltons
To follow Tim on twitter: https://twitter.com/schillingt
To follow Slasher Studios on twitter: https://twitter.com/slasherstudios