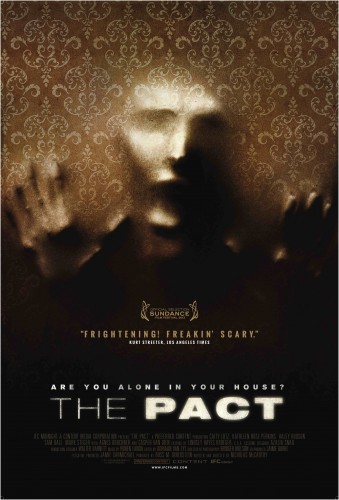 As a Slasher Studios exclusive, we have two brand new clips from the upcoming horror flick from IFC titled "The Pact." Looks like a hair raising good time for those that love their chillers ice cold.
Synopsis:
After their mother passes away, sisters Nicole and Annie reluctantly return to their childhood home to pay their last respects. While staying overnight in the house, the sisters sense a mysterious presence in their midst: noises startling them in the night, objects moving about, a fallen picture of an unknown woman posed next to their mother. Annie begins experiencing a series of intense and disturbing dreams – visions that lead her to uncover something terrible about her mother's past that is finally revealing itself.
Available Now Nationwide on IFC Midnight Cable VOD and Digital Outlets (SundanceNOW, iTunes, Amazon Streaming, XBOX Zune, Playstation Unlimited). In theaters starting THIS FRIDAY July 6, 2012.
To view THE PACT trailer and get more information: http://www.ifcfilms.com/films/the-pact