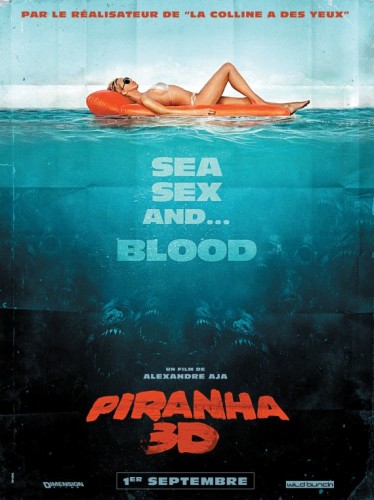 So, I may be pushing this one, but my choice for holiday horror (since a lot of my favorites have already been reviewed, haha), is the Spring Break horror film Piranha 2010, aka Piranha 3D.
It is Spring Break in Lake Victoria, Arizona. It is a time for booze, swimming, boating, topless girls and…prehistoric piranha? While the local sheriff Julie Forrester (Elisabeth Shue) is out patrolling the young and wild crowd, her son Jake (Steve McQueen) is out with a porn crew when he should be babysitting his younger brother and sister. Leading the crew is Derrick (Jerry O'Connell), and one of his Wild Wild Girls is Danni (Kelly Brook). Also along for the ride is Jake's love interest, Kelly (Jessica Szohr). What the crew and the unsuspecting spring breakers don't know is that they will soon be on the menu for the some hungry prehistoric piranha that have broken free after a quake in the ocean floor. Can our local sheriff save her kids as well as the spring breakers before they all become fish chow?
So even though Spring Break isn't legally a holiday, many young people will consider it one in their own world. It is a time when they can break free from school, work, etc. and just go crazy and have fun. That is exactly what Piranha is. A fun-filled movie. Definitely not one to be taken seriously. The film successfully captures the goings-on of the Spring Break crowd. Loud music, lots of alcohol, and may tit shots. It also throws in some FANTASTIC gore scenes. This is probably the goriest movie I've seen in my life. Maybe there is gorier, but it is one that's stuck with me the most. The cast was more or less likeable. Julie is an excellent hero character, Ving Rhames in the film is also a great hero with some good one-liners, Derrick may be a dick but he was funny as hell, and honestly, despite Danni being a whore, I loved her way more than Kelly (whom I found annoying). Danni was kind-hearted and was actually trying to help Jake and Kelly get together. I can't say I was a fan of the Jake character, like most of the characters like him, he doesn't man up until the end. The massacre scene is absolutely mind-blowing. So many deaths, and so much gore. Half the deaths aren't even piranha-caused.
I can't imagine Piranha being directed by anyone other than the great Alexandre Aja. To me he is this generation's king of gore. Eli Roth (who ironically has an appearance in this), is definitely in that race too. As long as someone views the movie with an open mind and realizes the movie is meant for pure fun, they will enjoy it. Anyone who's ever been on a crazy spring break in a beach area may definitely be able to relate to this film. Minus the hungry piranha of course.
–Cody Landman