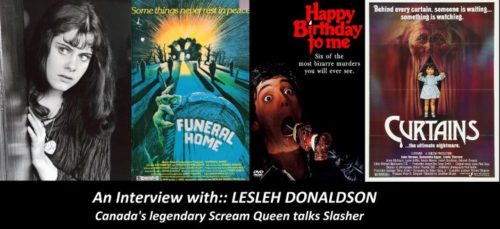 The Slasher Stop sat down recently with Lesleh Donaldson and she fielded a few questions about her slasher legacy!
SS: Start with the obvious; growing up did you always want to be an actress or a performer? Or was it something that came later?
LD: No I wanted to be a teacher like my mother. It wasn't until I saw her modelling pics that I wanted to be a model. I think all girls want to be their mother and mine was kinda spectacular, haven't lived up to her yet!
SS: I know your mother and I can see why you'd want to be like her, awesome woman! So how did acting come about? Did you model for a while first?
LD: Yes I took modelling lessons and I was good at it. i posed in the Sears catalogue etc but then commercials came my way so I went in that direction!
SS: I know you were very young when feature film came your way, but just before we get into your slasher legacy, I have to ask, was Funeral Home your first experience with features?
LD: No I did running first.
SS: I didn't know that! I'm a bad fan! I've been dying to ask, how did you land the lead in Funeral Home? And just in general, cuz I don't want to take up too much of your time, what was it like working on your first lead?
LD: I landed the role because of running I think and because I had the right look at the time. It was incredible working on Funeral Home, everyone made me feel very comfortable I think they were instructed to but nevertheless it was phenomenal!
SS: How did you feel when you saw the film? Did people treat you differently, your family or such?
LD: I saw it at a drive inn, no, no one treated me differently it was all normal!
SS: And wrapping up Funeral Home, were you happy with your performance?
LD: Well no one is ever happy with their performance but it was so long ago who can complain!
SS: Awesome, of course next you were cast in the classic Happy Birthday to Me. How did that come about?
LD: I got an audition!
SS:And what was that set like? Was it different now that you were working with stars? Like Glen Ford, Melissa Sue Anderson and J. Lee Thompson?
LD: I never met Glen, but Melissa was real nice and the other actors I knew from the audition scene. J. Lee was great! And cute
SS:And we all wanna know about your Janet Leigh style death scene.
LD: It was fun as recall. I wish I had a more descriptive recall for you but it was as you see.
SS: How do you feel about Happy Birthday to me as a final product, and its lasting legacy?
LD: I Saw Happy Birthday To Me not to long ago and I have to say I thought it held up well. It was a good little film for that time and you can't deny the chemistry between the cast, you can't force that it has to be organic and it was because we all knew each other and had mutual respect!
SS: Curtains, your final slasher of the trio, can you tell us how you got that role?
LD: I auditioned for Peter Simpson I believe and he knew me from previous auditions. He liked me and not in a sleazy way in a professional way I think he just thought I'd be the best Christie so I was offered the part!
SS: Can you give us ANY insight you have on Curtains troubled production and how long you worked on the film?
LD: The production was plagued with professional disagreements between Peter and Richard, Richard wanted art house and Peter knew what was selling strictly slasher, he had a hit with Prom Night and he knew the medium. Not sure why there were delays in production perhaps they really were trying to work it out or Peter was looking for another director before taking over the helm. Nonetheless it went on for a while and has the rep to boot!
SS: How did you find your Curtains co-stars? I.e. the gorgeous Lynne Griffin and Samantha Eggar.
LD: Everyone was fantastic, as I've said before Lynne Griffin I idolize she is a true professional in every way. Samantha was a bit more aloof but that was to be expected as her character warranted such. I got along really well with Sandee Currie and Ann Ditchburn!
SS: How do you feel about Curtains as a whole? It has to be my favourite out of the three you've done
LD: It's very disjointed but perhaps that's the charm of the film. I never thought anyone would ever see it so it having the Cult status it does blows me away and I'm grateful for that!
A huge thank you to both The Slasher Stop as well as one of our favorite underrated Scream Queens, Lesleh Donaldson, for the fantastic interview.