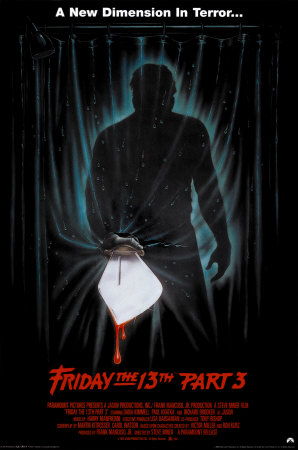 Our tweet by tweet reviewer Tim Schilling is back and this time he is taking a look at Friday the 13th Part III. A love it or hate movie in the series, I must admit that I have never been a fan of this installment. Let's see what Tim has to say..
Thoughts before the film:
Part II was a HUGE improvement over the first one. At this point, the rest of the movies just blur together to me. #FridayThe13thPartIII
Thoughts while watching:
0:02 Flashbacks galore.
0:09 No Ginny in this one? I actually liked her.
0:12 Why can't I have a rabbit walking around the store I work at?
0:14 Uh that's fuckin gross I don't need those sound effects.
0:18 They threw in the most awkward character ever in this movie.
0:21 Holy déjà vu. Can you get that from watching a movie?
0:22 They realized they killed Ralph too early in the series so they had to make this rip off guy.
0:30 I like Shelly. These movies need someone like him.
0:33 I'd go piss on those guys motorcycles. But knocking them over is just as good.
0:36 ….I kinda forgot Jason was in this movie until they just showed him now.
0:41 I hate these bikers. I can't wait until they get it.
0:54 Don't do it Shelly! Don't you hear the creepy music? Not good!
1:01 Pow right in the kisser (I gotta say that at least once in each movie).
1:05 How did you not see a person laying underneath the hammock?
1:09 I always think of the barn scene when I'm talking about this series.
1:24 Jason almost dies like 7 times in this movie alone.
Overall: What's with all the hate for #FridayThe13thPartIII!? I honestly think it's just as good as Part II. Likable characters (and dislikable, in the good way), awesome ending (I love the barn scene), and it introduced the famous hockey mask!
To follow Tim on twitter: https://twitter.com/schillingt
To follow Slasher Studios on twitter: https://twitter.com/slasherstudios