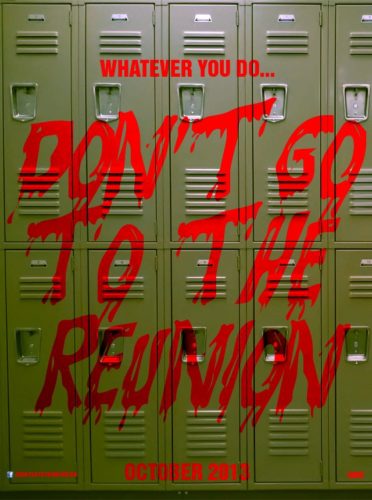 It sounds like a cliché but "Don't Go to the Reunion" started as a dream. Blame one too many viewings of "Slaughter High" and "Scream" combined with a high fever, nearly the entire initial draft of "Reunion" started in this 80's nightmare. I knew I wanted to make a revenge slasher (so many in the 1980's and so "out of style" in today's horror market) and I knew I wanted to play homage to every single slasher film that I grew up with. I turned on my computer and starting typing. Working here and there, I finished the rough draft of "Don't Go to the Reunion" in just over a month. Little did I know that less than a year later, production would be wrapped and I would be waiting on my co-creator Steve Goltz to hand in a final cut of the film. It still feels so surreal.
When we started the Kickstarter campaign last November, we had a goal of $10,000. We knew that we would have to fund at least part of the film on our own as $10,000 just wouldn't cut it on our feature. But, the true question remained, would we receive the funding we needed in order to see the movie through from final draft to final cut? After two tireless months of promoting, we were happy to say that we raised our goal and production would be going forward with the film. The generous backers on the Kickstarter have to be thanked at least one more time. This movie would not have been made without you and we are grateful more than words can possibly share. This movie is our baby and it is a baby that we cannot wait to share with the world.
As pre-production loomed on, we began to receive audition videos from all over the United States. Stephanie Leigh Rose from Chicago signed on as our Final Girl Erica. Her audition video showed grace and pose but, more importantly, strength. This is NOT a final girl to fuck with. Spencer Harlan from Texas was cast as David, the "Final Guy" who is both charming and sincere. These are two traits that Spencer has no problems expressing. After our initial Scott, the horror loving misfit, left the project due to scheduling conflicts, Brady Simenson was cast in a role that Brady brought a sweet, non-ironic touch to the role. You really do feel for the kid and that says everything you need to know about Brady's performance. Nick Sommer, from the underrated slasher Blood Junkie, was hired as a drunken asshole Christopher and he was a hoot every single day he was on set. He was hilarious and I can't wait to see how his character comes off in a large audience.
Also back on the Slasher Studios pack is Mike Goltz, Hannah Herdt, and Matty Dorschner three of our favorite actors to work with who are all game for anything and a treat to work with. Filling out the cast is Hayley San Fillippo as the hilarious, no-nonsense Kimberly, Tawnie Thompson as the sweet and lovable Megan, Johnathon Krautkramer as the wisecracking and always honest Jeremy, the great Marla Van Lanen as the tough as nails Ms. Sorensen, Kaleb Shorey as Scott's sweet horror loving little brother and J.R. Watkins as the neighbor who may know more than he leads on. Seriously, this cast gave their all and slasher fans are going to have a hell of a good time.
Stay tuned as Steve Goltz continues as he talks about the production process and the incredible crew.