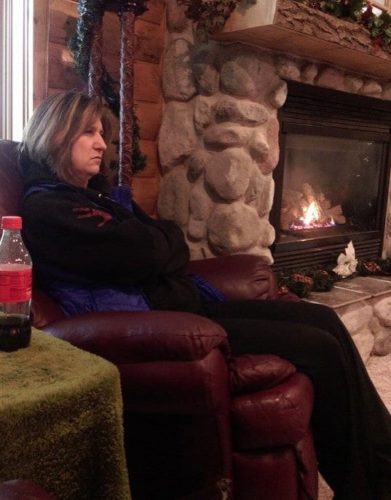 I am excited to return to another Slasher Studios feature film! My first experience was taking a 'test run' up to the set location so I could easily find it the first morning of filming. My traveling companion for this test run was 'Don't Go to the Reunion' cast mate, Kaleb Shorey. As we ventured into the northwoods of Wisconsin, the GPS directions took us farther and farther down one lane, dead end snow covered roads with hills, twists and turns, and seemingly, no cabin in the woods. This was already turning into a scary adventure and the movie has not even begun! Finally, we came across two fellows carrying snow shovels. I called out 'are you making a movie?' and lo and behold, this was our Director, Austin Bosley and DP, Jordan Hiller. They were coming to the rescue of some of the multiple cast and crew who would find themselves stuck in the winter wonderland. Another mile down the trail I had my first look at the film set. A rustic vacation home on a secluded lake. This was going to be where the magic happens. No one for miles around….just frozen Wisconsin tundra. And no phone or internet service.
Filming the movie was everything and more than I expected. The cast was amazing. Full of up and coming young actors from across the country with incredible talent. I also was reunited with people I worked on in DGTTR, like Zach, Kevin and Johnathan. The crew for this movie was outstanding. I met so many cool people! Viewers are in for a special treat! The lighting, sound recording, film work and attention to detail by the script supervisor will make this slasher one to remember! The crew had to endure the longest hours in below zero temps to bring you the best of holiday slashers, but it will be so worth it! Austin and Kevin definitely had a vision of how this story should be told, complete with blood and gore and action packed with excitement.
The cast, even though many were from warmer climates, did an incredible job of tolerating the weather. I do have to say the fireplace was running 24/7 to dry out mittens and boots and keep us warm. Due to the treacherous roads leading to the cabin, once we were there, we were there to stay, except for one night when we were done early and packed 18 people in 3 cars to have dinner at Nutzy's, the local bar and grill. Other nights we were treated to home cooking courtesy of Scott, our AD. Nights were spent watching classic horror DVDs. A great thing to experience surrounded by people who know so much about film and are schooled in slasher movies.
This film also gave me a chance to work on some of the pre-production work with Zach and Andrew. I enjoyed helping out and providing the details and design to some of the scenes. It was also a chance to contribute my skills as a FX makeup artist, another horror passion of mine. My favorite and last memory from the set was the magical feeling of spending nearly two weeks in a house decorated for Christmas. While real life Christmas decorations are packed away, we had the chance to enjoy staying in a house decorated from top to bottom for Christmas.
Thank you to everyone for sharing this experience with me!
–Marla Van Lanen