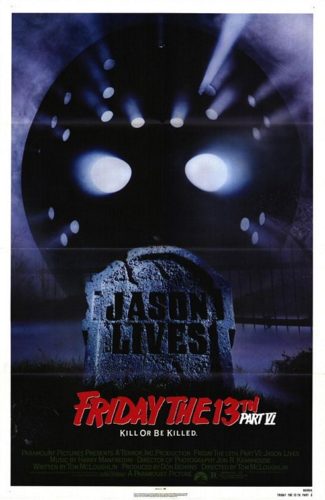 Today I watched Jason Lives: Friday the 13th Part VI (1986) for the first time. I had seen parts 1 till 5 before and my favorites of those are definitely the original and Part 2. The rest felt either just good (Part 4) or just utterly bad (Part 3). While I did hear a lot of praises about Jason Lives I wasn't that sure if I'd love it as well. Well I've seen it and its suffice to say that it's one of my favorite entries in the Friday the 13th franchise! In my opinion its MUCH better than 3, 4 and 5.
This installment definitely took me by surprise since I noticed a downward spiral ever after Part 2 of the franchise. It was fun, campy and I loved the characters and especially the deaths. The performances weren't exactly mindblowing but I am willing to admit that Jennifer Cooke as Megan became one of my favorite Friday the 13th final girls! A very sassy and likeable character that you gotta love. Also Thom Mathews as Tommy Jarvis was fantastic, my favorite 'Jarvis' performance of the three actors that portrayed the character from 4-6. Much better acting abilities and let's not forget about his very charming looks! This sequel totally justified Jason Voorhees as he strikes back with a vengeance. The dark humor in this sequel was on point and I love how little I knew about this installment which made the whole experience even more awesome.
The soundtrack is superb with the highlight being the 'He's Back (The Man Behind the Mask)' song by Alice Cooper! Loved this sequel from beginning to end, from the rad 'Jason Bond' opening credits to the jamming end credits. It had some minor flaws but none too drastic. Highly recommend this slasher sequel to anyone, I was blown away by its awesomeness!
Wanna read some more reviews of mine? Visit Ferdi's Movie World and you can find plenty of more!
–Ferdi Akkulak