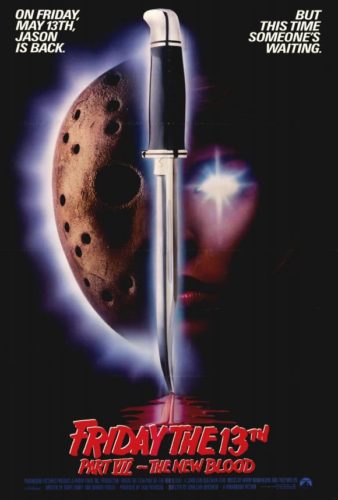 Today I watched Friday the 13th Part VII: The New Blood (1988). This was the first Friday the 13th installment I had ever watched, I saw it on VHS a few years back. Now that I've seen Parts 1-6 and reviewed all those already I decided to give Part 7 another spin so I could write a review for it as well. In my honest opinion, I think 'The New Blood' is one of my personal favorites of the Friday the 13th franchise. And not only because it was the first installment I had ever seen. There is something about this well thought out concept that is inventive yet original. Especially it being the 7TH installment in a long running franchise, I have to say I'm very impressed.
It is a very fun and entertaining sequel with some very good death scenes. (although there is an obvious lack of gore in them, which we can blame the MPAA for!) The characters are well written and very straightforward, one of the many aspects I loved of this sequel. Lar Park Lincoln was absolutely amazing as Tina Shepard. Great performance and one bad-ass and resourceful final girl! Also really loved the late Susan Jennifer Sullivan as Melissa, probably one of the best bitchy characters in horror movie history. She's truly memorable! Also loved Susan Blu, Diana Barrows and Kevin Spirtas in this sequel. Kane Hodder makes for a frightening and surprisingly human Jason Voorhees, quite possibly my favorite Jason! The telekinesis aspect in this movie is quite great. The soundtrack, directing and dark humor are also very outstanding. I wish the running time was a bit longer but I can still recommend this classic 80's slasher sequel to everyone. It's not perfect but it damn sure is enjoyable to watch every single time.
Wanna read some more reviews of mine? Visit Ferdi's Movie World and you can find plenty of more!
–Ferdi Akkulak