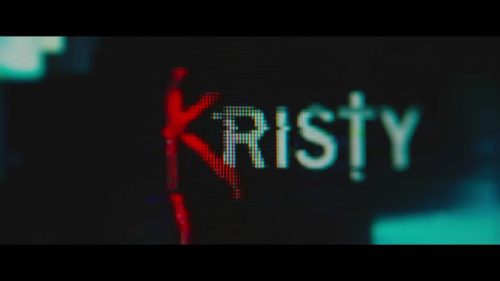 On Saturday night I watched Kristy (2014) for the very first time. This movie didn't get a DVD release where I live until last month. I immediately picked up a copy, because I've been excited to see it for quite some time. It's been circulating on my Facebook and Instagram feed for over a year now and for most part received high praises from the horror community. The cast is interesting enough and Haley Bennett is an extremely underrated actress in my opinion. Kristy marks the second feature film of director Oliver Blackburn, who previously directed the British slasher Donkey Punch (2008). Which I haven't seen yet, but own on DVD.
I have finally come around to see Kristy and it was everything I expected and more! This has to be one of my favorite modern horror/slasher movies. The story doesn't try to be original and that's what I mainly liked about this movie. The acting performances are excellent, especially by Haley Bennett and Ashley Greene. Justine (played by Haley Bennett) is hands down one of the strongest final girls in horror movie history, up there with Erin (Sharni Vinson) from You're Next. Such a likeable and relatable character. Ashley Greene played against type as the stonecold cult leader and the result was nothing short of amazing, even though her character was underdeveloped. The character development isn't the strongest, as we're mainly focused on Justine throughout the movie. Lucas Till was also pretty decent in this movie, even though his screentime was limited. The tension and suspense in Kristy was heartpounding with many well executed chase scenes and effective jump scares. Oliver Blackburn did a terrific job in the director's chair. I also thought that the soundtrack was superb, as we get a chilling score mixed with modern songs like: Lana Del Rey – Blue Jeans and NONONO – Pumpin' Blood. Kristy didn't bore me for a second and literally kept me on the edge of my seat throughout its short running time, which oddly didn't felt all that short to me. I really liked the girl power aspect in this movie as we witness our lead girl fight back after literally going to hell and back again.
The final confrontation between our protagonist and antagonist is bad-ass and outstanding. This is one of those movies where you have to pay close attention from the very beginning in order to pick up some clever references and choices that characters make. The cinematography in this movie is rock solid and I loved the campus setting and the beautiful exterior shots. Everything seemed to work for me with this movie, even though I wish it had more character development and a longer running time. There is a scene after the credits that may or may not suggest a possibility for a potential sequel. I would love that idea, but only if Haley Bennett reprises her role of Justine. Kristy is a thrilling and exciting adrenaline ride that I suggest everyone should take. It even takes place on Thanksgiving, so it's technically a holiday horror/slasher. Definitely a movie I wanna watch at least once a year. For those that are interested in seeing it, Kristy is now streaming on the American Netflix. I highly suggest everyone to give it a watch, as it's a cult classic in the making. It's The Strangers meets The Purge meets You're Next.
–Ferdi Akkulak